Warning: This product is not currently available at any store.
Click the button above and PricePlow will email you when the first store has it in stock!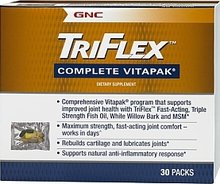 Comprehensive Vitapak program that supports improved join health with TriFlex™ Fast-Acting, Triple Strength Fish Oil, White Willow Bark and MSM
Maximum strength, fast-acting joint comfort-works in days
Rebuilds cartilage and lubricates joints
Supports natural anti-inflammatory response
GNC TriFlex™ Complete Vitapak features clinically studied ingredients that support total joint health and provide joint comfort in as early as two weeks. These ingredients support mobility and flexibility, rebuild cartilage and lubricate joints.
TriFlex™ Fast-Acting – This maximum strength, fast-acting comfort formula features the full potency, clinically studied doses of glucosamine and chondroitin joint comfort and flexibility. Glucosamine and chondroitin help preserve joint function and rebuild cartilage. It combines two important structural components of joint cartilage, MSM and hyaluronic acid (HA), which helps with cushioning joints and maintains the elastic integrity of skin. It also includes 30 mg of vitamin C. Vitamin C is involved in the synthesis of collagen.
Triple Strength Fish Oil – Supports the body's natural anti-inflammatory response and promotes joint health. Fish oil naturally provides omega-3 fatty acids EPA (Eicosapentaenoic Acid) and DHA (Docosahexaenoic Acid). One enteric coated softgel capsule features a total of 900 mg of omega-3 fatty acids; 540 mg of EPA and 360 mg of DHA. The enteric coating controls or reduces fishy burps by allowing the softgel to break down and absorb in the small intestines.
White Willow Bart Extract – Provides joint comfort in as early as two weeks. The combination of glucosamine and chondroitin with white willow bark provides dual action benefits for joint comfort.
MSM – A naturally occurring organic sulfur that provides an important component for joint cartilage.
Once you have completed eight weeks of daily usage of this product, check with your healthcare professional regarding continued use, as you should now be able to switch to GNC TriFlex™.
GNC Quality Commitment
- For more than 75 years, GNC has been the leader in the development and manufacture of dietary supplements and is committed to producing the most superior products. We use only the highest quality ingredients manufactured under the strictest quality controls. Every raw material used is tested to ensure its purity and potency. Each product is dated and then shipped immediately to our stores to ensure that you are purchasing the freshest supplements available.
GNC Guarantee
- If you are not 100% completely satisfied, return the unused portion of the product with your receipt to a GNC store within 30 days. Our trained sales staff will either refund your purchase price or, if you prefer, assist you in finding a replacement product to help you LIVE WELL.