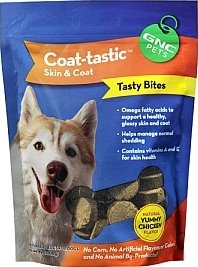 GNC Coat-tastic Tasty Bites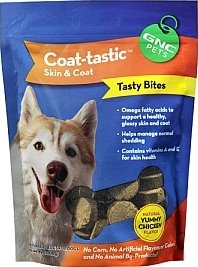 GNC Coat-tastic Tasty Bites
Omega fatty acids to support a healthy, glossy skin and coat.
Helps manage normal shedding.
Contains vitamins A and E for skin health.
If you want to give your dog a fantastic treat that's not only amazingly delicious and fun to eat, but also provides important nutrients for your dog's health and well-being, GNC Pets Coat-tastic bites are the perfect answer! Enriched with the highest quality Omegas from fish and safflower oil and Vitamins A & E, these tender treats help support a silky, shiny coat and healthy skin. Food alone may not always provide all the crucial nutrients your dog needs on a daily basis, which makes these fortified treats the perfect solution. And nobody knows healthy nutrition better that GNC, a leader in health and wellness for over 75 years.