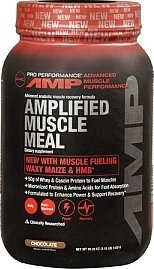 GNC Amplified Muscle Meal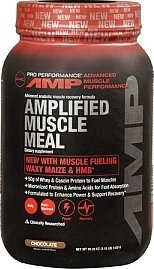 GNC Amplified Muscle Meal
Advanced anabolic muscle recovery formula
Amplified Muscle Meal
Dietary Supplement
New With Muscle Fueling Waxy Maize & HMB*
50g of Whey & Casein Protein to Fuel Muscles
Micronized Protein & Amino Acids for Fast Absorption
Formulated to Enhance Power & Support Recovery*
What is Amplified Muscle Meal?
You want to feed lean muscle, then you need muscle fuel... Amplified Muscle Meal. Our most complete sports nutrition product yet, packed full of nutrients your body needs throughout the day to fuel your toughest workouts. Developed by our sports nutrition experts, this is the ultimate muscle meal formula designed specifically for all competitive athletes.
Amplified Muscle Meal Evolution
Why Amplified Muscle Meal?
Keep reading, and you'll see why...
Exclusive 50 Gram Protein Blend - Amplified Muscle Meal is scientifically formulated with fast, medium and slow digesting proteins. This combination of multi-action proteins fuels your muscles with the protein you need for optimal growth and repair.* Plus, it includes 20 grams of technology enhanced protein proven to get key amino acids into your blood better than ordinary whey protein! How? By using MicroSorb™ Amino Technology, this protein has been pulverized, or "micronized," from large molecules into smaller particles that are easier to absorb.
More Key Amino Acids - These micronized and non-micronized amino acids are delivered through advanced technologies and help create a dual flow of quick-absorbing aminos that are critical for protein synthesis. Each serving provides more than 9 grams of leucine, over 14 grams of glutamine and an array of amino acids to fuel skeletal muscles and provide an anti-catabolic effect.*
Excellent Source of Fiber - It includes Sunfiber&reg, a clinically studied fiber, proven not to interfere with absorption of carbohydrates, fat and protein. Sunfiber&reg has also been proven to reduce glycemic response.*
Tri-MG Infusion™ - This anabolic amplifier consists of clinically studied betaine combined with HBM. This combination of ingredients creates an anti-catabolic effect for your muscles.* Betaine, also known as trimethylglycine, is clinically shown to enhance athletic performance.* HMB plays an important role in supporting muscle health during exercise by decreasing protein breakdown during exercise by decreasing protein breakdown during resistance training.* HMB is a metabolite of leucine which plays a key role in muscle performance and may also have an anti-catabolic effect.*
EFA Blend - This formula features a unique fatty acid blend consisting of healthy EFAs from flax, olive and other healthy oils, including CLA and MCTs. MCTs are quickly absorbed for energy, not stored as fat.
Carbohydrates - Now with 10 grams of waxy maize used for rapid glycogen store replenishment, a critical muscle recovery component.* Amplified Muscle Meal delivers a total of 25 grams of essential energy to get you through you intense workouts and reload energy stores after extreme exercise.*
Essential Vitamins & Minerals - For an added bonus to help maintain good health and a competitive edge, this scientifically formulated nutritional supplement delivers 26 powerful nutrients your muscles need.*
In a randomized, double blind, placebo controlled cross-over study of 16 healthy male volunteers, subjects experienced significantly higher maximum concentrations of Total Amino Acids, Branched Chain Amino Acids and Leucine one hour post-ingestion of the protein blend in GNC Pro Performance&reg AMP Amplified Muscle Meal relative to amino acid concentrations measured post-ingestion of whey protein concentrate.
* These statements have not been evaluated by the Food and Drug Administration. This product is not intended to diagnose, treat, cure, or prevent any disease.