Warning: This product is not currently available at any store.
Click the button above and PricePlow will email you when the first store has it in stock!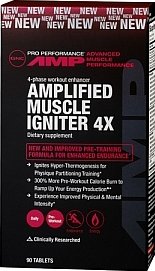 GNC Amplified Muscle Igniter 4X
GNC Pro Performance&reg AMP
4-Phase workout enhancer
Amplified Muscle Igniter 4X
Dietary Supplement
New and Improved Pre-Training Formula For Enhanced Endurance*
Ignited Hyper-Thermogenesis for Physique Partitioning Training*
300% More Pre-Workout Calorie Burn to Ramp Up Your Energy Production*
Experience Improved Physical & Mental Intensity*
What is Amplified Muscle Igniter 4X?
If amplifying training performance is what you want, Amplified Muscle Igniter 4X is what you need. GNC's first and only 4-phase supplement with clinically researched blends designed to encompass the multiple aspects of workouts - delivering benefits before, during and after exercise. This multi-phasic formula supplies clinically proven components to support the metabolic phases of muscle action throughout training. Its 4-phase system supports cellular reactions that help enhance pre-workout calorie-burning, improve physical and mental intensity, ignite heat shock proteins (HSPs), increase endurance and support the recovery process - all in one dynamic formula!* Amplified Muscle Igniter 4X - GNC's first and only 4-phase thermogenic workout enhancer.
The Amplified Muscle Igniter 4X Evolution
Amplified Muscle Igniter 4X is a supplement that provides the complete formula to take you through the full metabolic cycle of athletic performance and training.*
Calorie Burn Blend - Burn more calories before, during, and after workouts. This exclusive Calorie Burn Blend features technology-enhanced red and black pepper extracts and other superior components proven to provide calorie-burning effects.* Now with White Willow, a natural source of Salicin, Salicin may impact enzymatic pathways in the body that can potentiate caffeine's thermogenic response.
Performance Blend - Workout harder and longer. The proprietary Performance Blend features naturally caffeinated plant extracts and other natural ingredients proven to improve endurance and workout intensity.*
Sports Antioxidant Blend - Now with clinically studied ResVida&reg Resveratrol, shown to enhance blood vessel dilation*. Good blood flow helps pump more oxygen and nutrient-rich blood through the body to fuel your workout! Plus includes Fenugreek and Yohimbe for natural herbal pump and Quercetin, a powerful antioxidant.
400 mg of Caffeine - With the amount of caffeine infused into this formula, you will be sure to feel the difference in the level of energy exerted during each workout. This caffeine load helps to promote the heat shock element and provides a signaling pathway, which results in HSP activation*. This HSP Activator is involved in releasing heat shock proteins during exercise.* HSPs are proteins induced by heat or other stresses that play a role in muscle physiology and are multi-functional.
Who Should Take Amplified Muscle Igniter 4X?
Amplified Muscle Igniter 4X is designed for athletes who desire to burn more calories, improve physical and mental intensity, and enhance energy and cardio endurance capacity.*
When Should I Take It?
Amplified Muscle Igniter 4X should be taken 30 to 60 minutes pre-workout. On non-training days, the product should be taken first thing in the morning with water.
The 4-Phase System for Undeniable Results!
PHASE 1: Pre-Workout Calorie Burn
300% More Pre-Workout Calorie Burn to Ignite Your Metabolism!*
Amplified Muscle Igniter 4X has thermogenic properties proven to help you burn more calories.*
*In a study, a group of 24 participants exercised on the treadmill on two occasions. On one occasion, they used the Calorie Burn Blend in this formula 60 minutes before exercise and on the second occasion, they took a placebo.
* These statements have not been evaluated by the Food and Drug Administration. This product is not intended to diagnose, treat, cure, or prevent any disease.