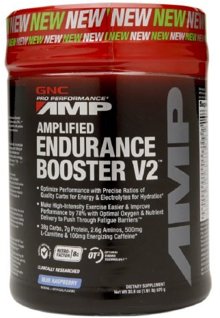 GNC Amplified Endurance Booster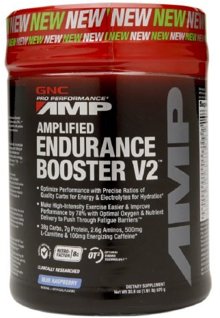 GNC Amplified Endurance Booster
Clinically Shown to Improve Finish Time by Nearly 5 Minutes.
Maximize Energy During High Intensity Exercise.
Loaded with Electrolytes, Carbohydrates, BCAA & Hydrolystates to Rapidly Replenish Glycogen Stores.
THE PROOF IS IN THE RESULTS?
In a clinical study, participants using Amplified Endurance Booster were able to complete their high intensity endurance exercise nearly 5 minutes faster! This revolutionary product has been clinically proven to:
Improve Endurance Performance
Improve Cycling Time During a Time Trial.
Make High Intensity Endurance Exercise Easier.
Improve Blood Sugar Levels During and After Exercise.
What is Amplified Endurance Booster?
Need an endurance boost? Go the distance and improve your time with Amplified Endurance Booster! It's GNC's most effective endurance product ever! This clinically studied formula is proven to take minutes off your long distance time and make intense endurance exercise easier! This unique formulation combines the nutrients your body needs the most during endurance exercise to go the extra mile. Key features include....
Specialized Carbohydrate Blend-During intense long distance exercise, adequate amounts of quality carbohydrates must be available to energize your working muscles for the long haul. This formula contains two fast-acting carbs, dextrose and ribose, with a slower acting carbohydrate, maltodextrin, to provide sustained energy and blood sugar levels needed for maximum endurance performance.
10 Grams of Muscle Fueling Protein - While most sports drinks are made up of simply carbohydrates, studies show that a combination of carbs and protein during exercise can improve performance and better fuel your muscles for endurance exercise. That's why this formula is packed with 10 grams of high quality protein to better fuel your game.
Critical Amino Acids - Without a full amino acid pool, endurance performance can suffer. This product features Branched Chain Amino Acids (BCAA) to help preserve muscle glycogen stores and reduce protein breakdown during long distance activity. It also includes glutamine, which plays an important role in muscle function and hydrating muscle cells.
5 Electrolyte Blend - This thirst-quenching, hydration enhancer provides a 5 - electrolyte blend, all of which are lost through sweat during exercise. Replacing lost electrolytes is necessary to help regulate body fluids. Not getting the right amounts of fluid, electrolytes, and other minerals present in this top notch formula may lead to muscle cramping.
Vitamins and Minerals- Equiped with B-vitamins, this formula also supports carbohydrate metabolism and energy production. Plus, it's enhanced with calcium, which plays an important role in muscle contractions, and magnesium, which is necessary for muscle function
* These statements have not been evaluated by the Food and Drug Administration. This product is not intended to diagnose, treat, cure, or prevent any disease.