Warning: This product is not currently available at any store.
Click the button above and PricePlow will email you when the first store has it in stock!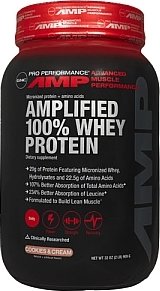 GNC Amplified 100% Whey Protein
Clinically Proven Ingredients to Deliver More Critical Aminos into the Bloodstream - Better and Faster than Regular Whey*
20g of Protein Featuring Micronized Whey, Hydrolysates & 22.5g of Amino Acids
107% Better Absorption of Total Amino Acids*
234% Better Absorption of Leucine*
Formulated to Build Lean Muscle*
The Proof is in the Amino Absorption - And More...
Faster Absorption of Critical Amino Acids for Muscle Fuel:
A clinical study has proven that the proprietary protein blend in Amplified 100% Whey Protein delivers more critical aminos into the bloodstream - better and faster than regular whey!*Compared to regular whey protein, two servings of Amplified 100% Whey Protein maximized amino acid absorption by delivering:
107% More Total Amino Acids* - These critical amino acids are crucial to feeding your muscles before, during and after exercise.*
114% More Branched Chain Amino Acids Absorbed 142% Faster!* - BCAA are involved in reducing the the amount of protein breakdown from exercise and help to preserve muscle glycogen stores.*
234% More Leucine Absorbed 370% Faster!* - Leucine is a key branched chain amino acid that is essential to fueling your muscles.* Its key role is to help regulation of muscle protein synthesis during muscle building and recovery.* This key amino acid is important for all types of athletes.
ABSORB MORE TOTAL AMINO ACIDS, BCAA AND LEUCINE WITH AMPLIFIED 100% WHEY PROTEIN COMPARED TO REGULAR WHEY PROTEIN!
What is Amplified 100% Whey Protein and why is it Better than Regular Whey?
Think ordinary whey protein is good enough? Think again. Introducing the latest breakthrough in whey! Amplified 100% Whey Protein features technology-enhanced protein with hydrolysates clinically proven to deliver more amino acids into the bloodstream - better and faster than regular whey!* The result... more amino acids are available for muscle fuel! These critical amino acids support athletic strength, performance, endurance and recovery.* This is the cutting-edge protein product that delivers a whole new level of protein technology.
The Amplified 100% Whey Protein Evolution
What makes this protein AMPlified? Using cutting-edge technology and top-notch research and development principles, this protein was designed to be the new champion of the whey protein category.
Micronized Protein with Hydrolysates and Amino Acids - This premium whey features micronized whey protein with hydrolysates, leucine and glutamine! Using MicroSorb Amino Technology, the micronized whey protein and amino acids in this formula have been pulverized into smaller particles that are easeir to absorb. As a result, Amplified 100% Whey Protein is proven to deliver superior amino acid uptake compared to regular whey.* Taht means more amino acids are available for your muscles to use as fuel! These key amino acids all support proteins involved in muscle building, recovery and other key processes crucial to your muscles.*
Amino Acceleration System - To make this protein even more absorbable, a unique digestive enzyme blend was included as an Amino Acceleration System. These efficacious enzymes were scientifically designed to further accelerate the availability of amino acids for absorption.
More Key Aminos - In addition to an impressive 4.5 grams of leucine for muscle protein synthesis and 3.5 grams of glutamine to support the recovery process, this formula is loaded with an array of aminos necessary for your muscles before, during and after workouts.*
Tri-MG - Amplified 100% Whey Protein is enhanced with this unique clinically studied ingredient, also known as betaine or trimethylglycine, which has been shown to enhance athletic performance.*