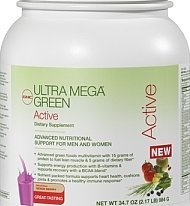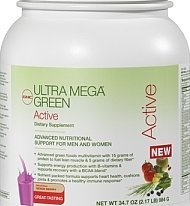 ADVANCED NUTRITIONAL SUPPORT FOR MEN AND WOMEN
Dietary Supplement
Advanced green foods multivitamin with 15 grams of protein to fuel lean muscle & 5 grams of dietary fiber
Supports energy production with B-vitamins & supports recovery with a BCAA blend
Nutrient packed formula supports heart health, cushions joints & promotes a healthy immune response
ULTRA MEGA GREEN ACTIVE
Ultra Mega Green active is a delicious blend of essential nutrients and green foods scientifically designed to support your active lifestyle. Emerging research suggests that including green foods as part of a healthy nutritional plan can help support overall wellness. Thus nutrient-dense formula contains vitamins, minerals and whole food-based ingredients needed to fuel your active lifestyle, including 15 grams of protein, 5 grams of fiber and a 2 gram blend of omega fatty acids. Ultra Mega Green Active has been formulated to provide optimal health benefits when taken as directed every day and mixes easily into your favorite beverage, smoothie or protein shake to help you meet the demands of your active, healthy life.
Ultra Mega Green Multivitamin with Superfood Blends
An advanced multivitamin formula featuring a superior blend of vitamins, minerals, whole foods, antioxidants, enzymes and phytonutrients found in green foods.
Provides 7 nutrient-rich superfood-based blends supplying key nutrients found in wholesome fruits, vegetables and green foods such as spirulina, kelp, wheat grass, pomegranate, bilberry, broccoli, carrots, spinach and more!
Performance, Energy and Metabolism Support
Features branched chain amino acids (BCAA) L-Leucine, L-Isoleucine and L-Valine, which are important to fuel a lean physique, stimulate muscle protein synthesis, reduce protein breakdown and preserve muscle glycogen stores. Muscles use these essential amino acids as fuel during exercise.
Cushions joints with vitamin C, collagen, MSM and hyaluronic acid.
Supplies B-vitamins that are essential for carbohydrate metabolism and energy production.
Contains zinc and chromium, which are involved in carbohydrate metabolism and glucose utilization.
Includes ingredients to increase peripheral blood flow. Adequate blood flow is critical for delivery of nutrients and oxygen to your muscles. Gingko biloba helps support increased peripheral blood flow, and watermelon extract contributes to nitric oxide production, which is involved in blood vessel dilation.
Digestive support
Includes 5 grams of dietary fiber, which serves as a bulking agent and encourages colon health by helping to speed food through the digestive system. Fiber also plays an important role in cleansing.
Enhanced with a digestive enzyme blend to help to ease digestion, release vital nutrients and support healthy digestive function.
Contains inulin, which provides support for a healthy digestive system by promoting homocysteine levels, important for cardiovascular health.
Heart and Cholesterol Support
Contains a 2 gram blend of oils that are natural sources of omega fatty acids including borage oil, a natural source of GLA that helps support healthy cardiovascular function.
Combines vitamins B-6, B-12 and folic acid that may help maintain normal homocysteine levels, important for cardiovascular health.
Immune Protection
Contains vitamin C and E, selenium and green tea leaf extract that help protect against harmful free radicals that can destroy healthy cells and promote the cell-aging process.