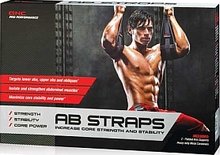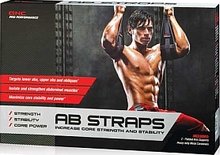 INCREASE CORE STRENGTH AND STABILITY
Strength
Stability
Core Power
Includes:2-Padded Arm Supports Heavy-duty Metal Carabiners
Targets lower abs, upper abs and obliques
Isolate and strengthen abdominal muscles
Maximize core stability and power
For maximum athletic performance, use GNC Pro Performance sports training gear in conjunction with GNC nutritional supplements.
GNC gives you the competitive advantage by providing premium supplementation and advanced sports training gear for unparalleled results. Pick up these items to maximize your training program:
GNC Mega Men Sport -
This high-potency multivitamin for the extreme athlete includes vitamins and minerals for key nutrient supplementation.
Pro Performance 100% Whey -
Contains a mega-dose of high quality protein. Perfect for supplementation throughout the day for muscle protein synthesis when used in conjunction with your training regimen. For pre- or post-workout.
Beyond Raw Refine -
Powerful thermogenic agents trigger dramatic pre-training caloric burn.
Pro Performance CLA -
Helps maintain lean muscle mass and a healthy body composition. Also enhances your diet and supports metabolism.
Dr. Victor Prisk, M.D.,
is an acclaimed orthopedic surgeon, former collegiate All-American athlete and world renowned sports medicine expert. Dr. Prisk endorses GNC Pro Performance sports training gear. A member of the GNC Medical Advisory Board, Dr. Prisk has been involved in research projects and medical presentations across the country. Also a renowned author, Dr. Prisk's publications have been featured in popular magazines and professional journals.