Warning: This product is not currently available at any store.
Click the button above and PricePlow will email you when the first store has it in stock!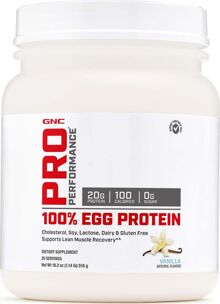 GNC Pro Performance
100% Egg Protein – Vanilla Ice Cream
Quick Dissolving, Lactose Free
Features 25g of Anabolic Protein Delivering All 9 Critical Amino Acids
Highly Digestive and Absorbable Versus Other Proteins
Complete Source of Muscle Fueling BCAA and Lactose Free
THE BENEFITS OF EGG PROTEIN: Protein serves as a dietary source of amino acids. The body needs amino acids to build the various proteins used in the growth, repair and maintenance of body tissues such as skin, bones and muscles. GNC Pro Performance 100% Egg Protein is an excellent addition to a daily whey protein regimen and is a great additional source of protein in the diet. Egg protein is highly digestible and absorbable in the body. Egg protein is high in protein and amino acids, but low in fat, cholesterol and carbohydrates, making it the perfect choice for dieting or for athletes looking to pack on lean muscle.
Egg protein is the highest quality because it is very easily digested and is a complete protein source containing all 9 essential amino acids, which are key for supporting healthy muscle. This makes it a perfect pre- or post-workout protein. Unlike dairy based proteins, whey or casein, egg protein is naturally free of lactose and therefore much easier to digest for those who have trouble with dairy based protein powders. One serving of GNC Pro Performance 100% Egg Protein provides the quality protein found in 4 eggs but with much less fat and cholesterol.
TYPICAL NATURALLY OCCURRING AMINO ACIDS PER 25 GRAMS OF PROTEIN:
Alanine 1444mg
Arginine 1358mg
Aspartate 2545mg
Cystine 648mg
Glutamine 3317mg
Glycine 877mg
Histidine 562 mg
Isoleucine* 1416mg
Leucine* 2112mg
Lysine 1702mg
Methionine 858mg
Phenylalanine 1463mg
Proline 972mg
Serine 1721mg
Threonine 1134mg
Tryptophan 305mg
Tyrosine 972mg
Valine* 1594mg
Total 25000mg
*Indicates Branched Chain Amino Acids (BCAA).
Natural and Artificial Flavors
* These statements have not been evaluated by the Food and Drug Administration. This product is not intended to diagnose, treat, cure, or prevent any disease.