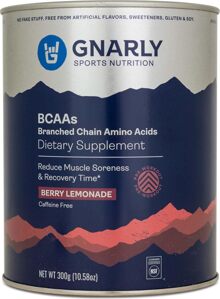 Gnarly Nutrition Gnarly BCAA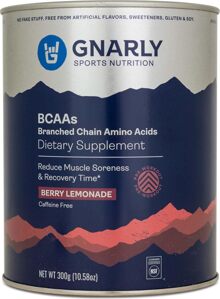 Gnarly Nutrition Gnarly BCAA
FEATURES OF GNARLY BCAAs
BRANCHED CHAIN AMINO ACIDS
Gnarly BCAAs provide essential amino acids that play a vital role in muscle development. Benefits of BCAAs include increasing muscle protein synthesis as well as providing an additional source of energy for working muscles. Consuming BCAAs during or following training may help promote muscle growth while preventing muscle breakdown.
NO ARTIFICIAL COLORS,
FLAVORS OR SWEETENERS
BRANCHED CHAIN AMINO ACIDS
HEALTH BENEFITS
Amino acids are the building blocks of protein. When our bodies digest protein, the protein is broken into amino acids. Essential amino acids must be consumed in our diet because our bodies do not naturally create them. Branched Chain Amino Acids (BCAAs) consist of three essential amino acids: Valine, Leucine, and Isoleucine. BCAAs improve exercise performance, reduce muscle breakdown and help with overall workout intensity and recovery.
5g
2.5g
35mg
20
BCAAs
LEUCINE
NATURAL CAFFEINE
CALORIES
"GNARLY BCAAS ALLOW ME TO GET MORE OUT OF MY WORKOUTS"
-DAN MIRSKY / PROFESSIONAL CLIMBER
AMAZING TASTE
At Gnarly, we believe that natural nutrition doesn't have to taste awful. Gnarly is dedicated to developing products that deliver in function and taste. Accomplishing this with natural ingredients is challenging, but we are committed to natural products that support your lifestyle while tasting and mixing better than any other brand out there.
"ITS GOT WHAT I NEED WITHOUT ALL THE STUFF I DON'T"
-FORREST COOTS / PROFESSIONAL SKIER
HEALTHY AND CLEAN
Take BCAAs around workouts to aid in muscle growth. If you are looking at building mass, consider taking a dose of BCAAs first thing when you wake up. This will help stop the muscle breakdown that takes place during your night of fasting while you sleep. Take BCAAs anytime to boost mental energy, reduce recovery time and to aid in muscle growth.
WHAT BCAAs CAN DO
"I HAVE TRIED OTHER NATURAL BCAAs BUT NOTHING COMPARES TO GNARLY"
-SHERRY / CONSUMER