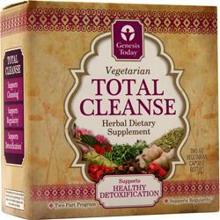 Genesis Today 4Total Calcium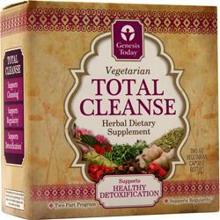 Genesis Today 4Total Calcium
4Total Cleanse Description from Genesis Today
2 PART FORMULA: 60 Vegetarian Capsules in Each Bottle.

Developed by the Doctor who completely reinvented the entire Internal Cleansing market in health food stores!

Non habit forming and buffered to actually retrain our intestinal system so it is eventually able to function independently on its own. Supports proper purification of all seven channels of detoxification with multiple herbs for each organ.

100% vegetarian product with almost no excipients or binders - less than 4mg per capsule (made with vegetarian capsules). Manufactured with easy to break down vegetarian capsules versus hard to break down tablets.
4 Total Cleanse Part 1
Supplement Facts
Serving Size: 1 capsule
Servings Per Container: 60
Ingredient
Amount
% Daily Value**
Calcium (as calcium carbonate)
32mg
3
Genesis Today Proprietary Blend
618mg
-Alfalfa leaf
-Burdock root
-Dandelion root
-Fennel seed
-Gentian root
-Hawthorn berry
-Mullein herb
-Plantain leaf
-Red clover
-Uva ursi leaf
-Wasabi 4:1 extract
-Yarrow
-Yellow dock
-Black cohosh root
-Elderberry fruit
-Fenugreek seed
-Pau D'Arco bark
-Ginger root
-Licorice root
-Chickweed herb
-Echinacea Angustifolia
-Horsetail herb
-Irish moss
-Kelp
-Marshmallow root
-Milk thistle seed extract
-Safflower
-Scullcap
-Slippery elm bark
-Cayenne pepper fruit
-Piper Longum
** Percent Daily Value is based on a 2000 calorie diet. Your daily values may be higher or lower depending on your calorie needs.
† Daily Value not established.


4 Total Cleanse Part 2
Supplement Facts
Serving Size: 1 capsule
Servings Per Container: 60
Ingredient
Amount
% Daily Value**
Calcium (as calcium carbonate)
32mg
3
Genesis Today Proprietary Blend
674mg
-Cascara Sagrada
-Fennel
-Psyllium
-Alfalfa leaf
-Ginger root
-Wasabi 4:1 extract
-Licorice root
-Cantaury root
-Clove powder
-Gentian root
-Cayenne pepper fruit
-Piper longum
-Red raspberry
-Slippery elm
** Percent Daily Value is based on a 2000 calorie diet. Your daily values may be higher or lower depending on your calorie needs.
† Daily Value not established.


Ingredients:
PART 1 Other Ingredients: Cellulose (vegetarian source), Magnesium Stearate (vegetarian source), and Silica (vegetarian source).

PART 2 Other Ingredients: Cellulose (vegetarian source), Magnesium Stearate (vegetarian source), and Silica (vegetarian source).

Manufacturer's Directions
4Total Cleanse Part 1 and Part 2 were designed to be taken together in the evening. As an herbal dietary supplement, start with 1 capsule of each product and increase intake of both products by 1 capsule every other day. Continue this until you support 2-3 healthy bowel movements every day and then maintain this amount. For example: Days 1 & 2: Take 1 capsule of each. Days 3 & 4: Take 2 capsules of each. Days 5 & 6: Take 3 capsules of each, etc. Do not exceed 4 capsules of Part 1 or Part 2 unless otherwise directed by your health care provider. If you experience loose bowel movements, simply reduce the amount of capsules you are taking.

Manufacturer's Disclaimer
This product contains Cascara Sagrada. Read and follow directions carefully. Do not use if you have or develop diarrhea, loose stools, or abdominal pain because Cascara Sagrada may worsen these conditions and be harmful to your health. Consult your physician if you have frequent diarrhea or if you are pregnant, nursing, taking medication, or have a medical condition. Do not use if safety seal on bottle is broken.




Be The First To Review This Product







Customers Who Bought This Item Also Bought

Nugo Nutrition NuGo Dark Bar Mint Chocolate Chip 12 bars

Our Price $14.89

Nature's Way Alive! Max6 Daily Multi-Vitamin - Max Potency 90 vcaps

Our Price $7.09

Nature's Way Alive Children's Chewable Multi-Vitamin Orange & Berry 120 tabs

Our Price $8.29