Warning: This product is not currently available at any store.
Click the button above and PricePlow will email you when the first store has it in stock!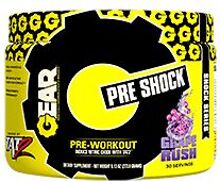 OVERVIEW PRODUCT REVIEWS
PRE SHOCK
POWERED BY TAT2
ZERO CALORIES OR CARBS
PROMOTES LONG LASTING NITRIC OXIDE*
INCREASE STRENGTH AND PERFORMANCE*
LAST 30 FULL WORKOUTS
---
Get ready to make every workout your greatest workout yet!
Pre-Shock is an explosive new pre-workout formula that features GEAR's exclusive patent pending technology TAT2
The science behind PRE-SHOCK would be enough to make it our greatest pre-workout formula ever. Couple that with its amazing taste and ultra-smooth texture, and you have the ultimate ergogenic workout tool in your training arsenal! *
Fulvic acid stimulates N.O. production via the stimulation of (calcium) Ca(2+)- dependent N.O. synthase activity. Better yet, this research gets into fulvic's ability to create positive intracellular pH changes, and cellular fluidity (decreases dehydration and increases nutrient uptake). With fulvic's 77 trace minerals, it's also a powerful electrolyte, increasing your ability to fight fatigue and endure the toughest of workouts, while maintaining maximum muscle contractions.*
PRE-SHOCK powered by "TAT2"(Theriomorphic Acid Technology), is the most advanced pre-workout formula on the market! The remarkable "TAT2" technology promotes nitric oxide production by utilizing a specifically concentrated combination of ingredients, which include Fulvic Acid, responsible for forcing creatine into the muscle cells. This natural method of boosting nitric oxide (N.O.) combined with increased cellular absorption provides powerful amplified pumps and superior nutrient delivery, resulting in maximum muscle growth that can't be duplicated by any other pre-workout in the industry.
All GEAR products were uniquely formulated and designed to appeal to all types of people with varying lifestyles. GEAR's SHOCK series was developed for anyone that is looking to make an improvement to the way they look, feel and perform.* From seasoned athletes, professional bodybuilders and practitioners of MMA & extreme sports to weekend warriors and those who are interested in improving performance during their favorite pastime sports, the GEAR SHOCK series is the supplement line made for and used by all.
Warning PRE- SHOCK causes superhuman strength, speed and the extreme power to push you beyond the limits of the normal human experience.
PRE-SHOCK is available in refreshing Fruit Punch, Grape Rush and Watermelon flavors and has been formulated to enhance solubility making it one of the easiest to mix powdered supplements of all time.
---
PRE SHOCK REVIEWS
IFBB PRO
CARYN NICOLE PAOLINI
FAVORITE FLAVOR: WATERMELON
"I take a half scoop of my Pre Shock and it does the trick! It gives me the right amount of energy to power through my heavy lifts, even on leg day!"
NPC BIKINI
CAT TEXTORIS
FAVORITE FLAVOR: FRUIT PUNCH
"It gives me the energy I need to get through a whole work out and that extra push I sometimes need! It is hands down one of the best and most powerful pre-workout product in the market."
IFBB PRO
JUAN MOREL
FAVORITE FLAVOR: FRUIT PUNCH
I love Pre Shock, It's absolutely amazing! It helped push me through my toughest workouts during pre-contest. I would have walked into the gym tired, but my Pre Shock makes me feel like a machine!*
IFBB PRO
AARON CLARK
FAVORITE FLAVOR: WATERMELON
"It helps me maximize my productivity at the gym. It greatly enhances the energy I have and the pump I get!"
IFBB PRO
LACY DELUCA
FAVORITE FLAVOR: WATERMELON
"I love the pump PreShock gives me. It helps me work out harder and longer! This product has helped me mold my physique, I can definitely see changes in my body!"