Warning: This product is not currently available at any store.
Click the button above and PricePlow will email you when the first store has it in stock!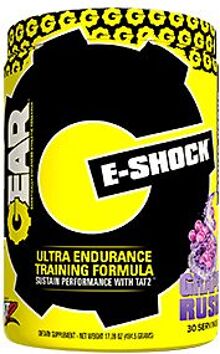 GEAR E-Shock Fruit Punch 17 Ounces Powder (30 servings)
Product Label
ULTRA ENDURANCE TRAINING FORMULA
SUSTAIN PERFORMANCE WITH TAT2
Anti-Catabolic BCAA's in 8:1:1 Ratio to reduce muscle loss
Provides central nervous system support to reduce muscle- signaling shutdown
Increases oxygen utilization and mitochondrial cellular efficiency
Helps maintain healthy blood sugar for sustained energy
Complete with electrolytes to reduce cramping and boost muscle contractile function
TAT2 is an innovative and proprietary process where ion complexes of fuluic acid are combinded to creatine. Through natural mechanisms, TAT2 raises intracellular PH to increase blood supply and oxygen causing cell expansion and greater nutrient absorption. This dramatically increases strength, and growth that you've never experienced before.
Directions
Mix 1-2 scoops in of E SHOCK with 8-12 ounces of cold water and consume during workout or 10-15 minutes prior to endurance event.
Warning
Allergen info: Contains soy, milk. These statements have not been evaluated by the food and drug administration. This product is not intended to diagnose, treat, cure or prevent any disease Warning: Keep out of reach of children and pets, Do not use if pregnant or nursing. Consult a physician or licensed qualified health care professional before using this product if you have, or have a family history of heart disease, thyroid disorder or disease , diabetes, high or low blood pressure, depression or other psychiatric condition, glaucoma, difficulty in urinating prostate enlargement, cardiac arrhythmia, stroke anemia, liver disease, or seizure disorder or are taking MAO inhibitors. Discontinue use if sleeplessness, tremors, dizziness or heart palpitation occur. DON'T NOT CONSUME WITH ALCOHOL
Does Not Contain:
This product contains No stimulants Zero Calories or Carbs and never any artificial colors flavors sweeteners or preservatives