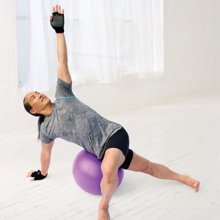 Gaiam Yoga For Beginners Kit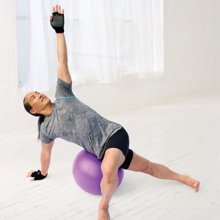 Gaiam Yoga For Beginners Kit
Begin your yoga practice with the Yoga for Beginners Kit with New Props. Get all the information you need to master the basic yoga skills. Build a solid foundation using Rodney Yee's expert advice from beginning yoga poses to yoga prop use. Whether you're looking for increased flexibility or a workout that challenges the body as a whole, the Yoga Beginner's Kit is an ideal way to ease yoga into your daily routine.
Rodney Yee's Yoga Beginner's Experience: Full-length instruction DVD with 2 workouts plus bonus meditation program features an energizing workout of foundation yoga poses plus a guide to using props and accompanying prop workout led by instructor Suzanne Deason. 60 minutes.
Rodney Yee also demonstrates proper usage of the yoga alignment mat, brick and strap.
In addition, this starter yoga kit includes a yoga mat with alignment marks to help guide hand and foot placement, a yoga block for proper positioning and support and a D-ring yoga strap to lengthen and align stretches. It's everything you need to practice yoga at home!
Yoga for Beginners Kit includes:
Two full-length yoga workouts and props training
Yoga brick for proper positioning and support
Alignment Yoga Mat to help guide hand and foot placement
Yoga strap to lengthen and align stretches
DVD includes:
A.M. Yoga - Get a productive start to the day with this 20-minute workout designed to open your body and center your mind. Taking a few minutes in the morning to find clarity and peace can give meaning to the rest of your day.
Daily Yoga - This gentle program will help increase circulation and mobility and invigorate you when you feel low on energy. Concludes with a restful and rejuvenating 3-minute conscious relaxation. 20 minutes.
Prop Intro - Learn how yoga props (brick, strap and mat) can guide you into good habits as you cultivate your yoga practice. With proper technique, these tools will have you moving like an expert from the very start. 8 minutes.
Seated Meditation Preparation - Before you enter into meditation, take a few minutes to prepare your body and mind. These simple stretches ready you for a deeper state of consciousness. The perfect end to an active yoga session. 10 minutes.
Benefits of the Yoga for Beginners Kit:
Improves flexibility, strength and circulation
Improves core strength, agility and balance
Increases mental clarity
No impact to joints or back
For all skill levels and ages
Get to know Rodney Yee...
Rodney Yee was a professional ballet dancer who later studied Iyengar yoga. He travels nationally and internationally to teach workshops, teacher–trainings and retreats. Rodney has been designing and performing in Gaiam programs for over 10 years. He has been featured on Oprah and other national programs.