Quick Links to Our Prices
How does this work and how do stores get listed? See our disclosure below to learn more. Price History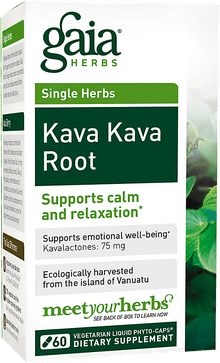 Kava Kava is a slow growing, perennial shrub. A member of the pepper family (Piperaceae), it is native to the tropical Pacific Islands region. Islanders who use it as a ritual beverage during ceremonies have long revered it. It is traditionally used as a social beverage for chiefs and noblemen for its calming, relaxing effect. The root is also used traditionally for stressrelated conditions. Kava is cultivated commercially, where it is totally dependent on human intervention for propagation.
Mechanism Of Action
The exact mechanism of Kava on the central nervous system is unknown. One possible mode of action is that Kava may interact with Gama-Aminobutyric acid (GABA) receptors. Early in vivo and in vitro research suggests that Kavalactones demonstrated only weak GABA receptor binding actions. However, a more recent study suggests that Kava pyrones mediate effects in GABA-A receptors, particularly in the hippocampus and amygdala. Other possible mechanisms include inhibition of noradrenaline uptake and activation of mesolimbic dopaminergic neurons. It is likely that there is more than one pathway responsible for Kava's activity on the central nervous system.
Note: The intention of this information is to represent the traditional use of the individual botanicals found in these formulas and to inform the reader of any evolving scientific inquiry relevant to the formula's ingredients.
References
Piscopo G. Kava Kava. Gift to the islands. Alt Med Rev. 1997; 2(5): 355-364.
Voltz HP and Kieser M. Kava Kava extract WS 1490 versus placebo in anxiety disorders- a randomized placebo-controlled 25 week outpatient trial. PHAM-Acopsychiat. 1997; 30:1-5.
Warnecke G. [Psychosomatic dysfunctions in the female climacteric. Clinical effectiveness and tolerance of Kava extract WS 1490]. Fortschr Med. 1991; 109 (4): 119-122. [in German]
Woelk H, et al. The treatment of patients with anxiety. A double blind study: Kava extract WS 1490 vs benzodiazepine. Zitschrift for Allgemenie Medizine. 1993; 69: 271-277. [in German]
Pittler MH, et al. Efficacy of Kava extract for treating Anxiety: Systematic review and meta-analysis. J Clin Psychopharmacology. 2000; 20: 84-89.
Davis LP, et al. kavapyrones and resin: studies on GABAA, GABAB, and benzodiazepine binding sites in rodent brain. Pharmacol Toxicol. 1992; 71 (2): 120-126.
Jussofie A, et al.kavapyrone enriched extract from piper methysticum as modulator of GABA biding site in different regions of rat brain. Psychopharmacology. 1994; 116: 469-474.
Seitz U, et al. [3H]-monoamine uptake inhibition properties of Kava pyrones. Planta Medica. 1997; 63(6): 548-549.
Baum SS, et al. Effect of Kava extract and individual kavapyrones on neurotransmitter levels in the nucleus accumbens of rats. Prog Neuropsychopharmacol Biol Psychiatry. 1998; 22 (7): 1105-1120.
Blumenthal M, et al. The Complete German Commission E Monographs: Therapeutic Guide to Herbal Medicines. Austin. American Botanical Council; 1998: 156-157
Schulz V, et al. Rational Phytotherapy. New York; Springer-Verlag; 1998: 65-73.
General References
Wren RC. Potter's New Cyclopaedia of Botanical drugs and preparations. Essex, UK. Saffron Walden;1988.
Bartram T. Encyclopedia of Herbal Medicine. Dorset. Grace Publishers; 1995.
Leung A, Foster S. Encyclopedia of Common Natural Ingredients. NY: Wiley;1996.
Bradley P (Ed.). British herbal Compendium. Dorset. British Herbal Medical Assoc.; 1992.
Mills S, Bone K. Principles and practice of Phytotherapy. New York. Churchill Livingstone; 2000.
Ellingwood F. American Materia Medica, Therapeutics and Pharmacognosy. Portland. Eclectic Medical Publications;1985.
Tang W, Eisenbrand G. Chinese Drugs of Plant Origin. New York. Springer-Verlag;1992.
Huang KC. The Pharmacology of Chinese Herbs. Ann Arbor. CRC Press;1993.
McGuffin M, et al. Ed. AHPA's Botanical Safety Handbook. Boca Raton: CRC Press, 1997.
Newall CA, et al. Herbal Medicines: A Guide for Health-Care Professionals. London: Pharmaceutical Press; 1996.
Weiss R. Herbal medicine. Beaconsfield, UK. Beaconsfield Publishers;1985.
Felter H, Lloyd JU. Kingâ€s American Dispensatory. Portland. Eclectic medical Publications; 1983.
Duke J. Handbook of Medicinal Herbs. Boca Raton. CRC Press;1985.
Hoffman D. The Holistic Herbal. Moray. The Findhorn Press;1984.
Felter HW. The Eclectic materia Medica, Pharmacology and Therapeutics. Portland, Oregon. Eclectic Medical publications;1985.
Boon H, Smith M. The Botanical Pharmacy. Quebec, Canada. Quarry press;1999.
Mills S. The Essential Book of Herbal medicine. London. Penguin;1991.
Brinker, Francis ND. Herb Contraindications and Drug Interactions. Sandy, OR: Eclectic Medical Publications;1997.
Miller L. Herbal Medicinals: Selected Clinical Consideration Focusing on Known or Potential Drug-Herb Interactions. Arch Intern Med.1998;158: 2200-11.
Newall C, Phillipson JD. "Interactions of Herbs with Other Medicines." Online. Internet. [4/26/00].
Bensky D, Gamble A. Chinese Herbal Medicine: Materia Medica. Seattle: Eastland, 1986.
DeSmet PAGM. Adverse Effects of Herbal Drugs. Berlin: Springer-Verlag. 1993
Bergner P. "Herb-drug Interactions." Medical Herbalism. 1997. Online. Internet. [5/20/99].
WHO monographs on selected medicinal plants. Volume 1. Geneva: World Health Organization. 1999.