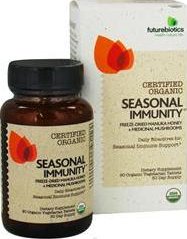 Futurebiotics Seasonal Immunity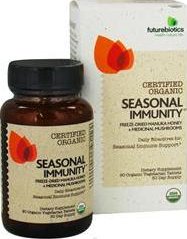 Futurebiotics Seasonal Immunity
Seasonal Immunity by Futurebiotics is a great way to increase seasonal immune support. Seasonal Immunity organic ingredients help to increase support for healthy immune function. The ingredients are Manuka honey, Vitamin C from Acerola berries, Turkey Tails Mushroom mycelia and Nettle. All of these ingredients are synergistically combined help rebuild and strengthen your immune system.

Supplement Facts
Serving Size: 3 tablets
Amount Per Serving and % of Daily Value
Vitamin C (from Organic Acerola cherry extract and Organic Manioc root) 64 mg 107%
Organic Manuka Honey 500 mg **
Organic Turkey Tails Mushroom mycelium 300mg **
Organic Nettle leaf 100 mg **

** Daily Value not Established

Other Ingredients: Organic Rice Maltodextrin, Organic Gum Acacia, Organic Rice Flour, Organic Rice Concentrate, Organic Rice Extract.

Suggested Use: As a dietary supplement for adults, take 3 tablets daily with a meal or as directed by a healthcare professional.

*These statements have not been approved by the FDA. This product is not intended to treat, cure or prevent any disease.