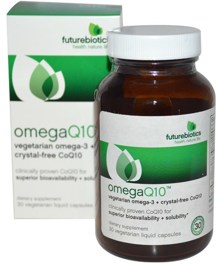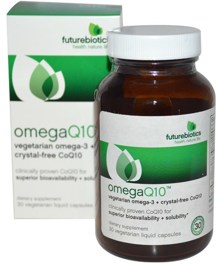 Futurebiotics OmegaQ10 Description
Vegetarian Omega-3 + Crystal-Free CoQ10
Clinically Proven CoQ10 for Superior Bioavailability + Solubility
Highly Absorbable, Crystal-Free CoQ10 in Liquid Form

Strictly Vegetarian Omega-3 from Flax and DHA from Microalgae

CoQ10 is Absorbed Most Efficiently with Omega-3 Oil
This strictly vegetarian formula includes only plant sources of the essential nutrients CoQ10 and Omega-3 fatty acids, combined for increased bioavailability. Vegetarian OmegaQ10 provides these important nutrients in a special 100% vegetarian liquid delivery system, Licaps, which uses no animal gelatin in the capsule shell.
Several factors can impact the body's ability to absorb and utilize supplemental CoQ10, including the formation of crystals when commercially produced. Vegetarian OmegaQ10 includes only crystal-free CoQ10, providing superior bioavailability and solubility. A clinical study demonstrated that 30 mg of crystal-free CoQ10, delivered via Licaps, is at least 30% more bioavailable than other CoQ10 dosage forms. Furthermore, CoQ10 is a fat-soluble compound that is most efficiently absorbed when consumed with fats - like the healthy fats in Omega-3 oil.
Vegetarian Omega-3 essential fatty acids (EFAs) include Alpha-linolenic acid (ALA). Rarely contained in common plant foods, the best way to consume adequate vegetarian Omega-3 EFAs is through supplementation. Enzymes in the body convert ALA to EPA (eicosapentaenoic acid) and DHA (docosahexaenoic acid) so all Omega-3 EFAs are available. Additional vegetarian DHA from a non-genetically-modified, natural-oceanic microalgae is included. A proprietary, environmentally-friendly process is used to grow the microalgae and produce the DHA oil.
Employing a unique, patented manufacturing process, Licaps utilizes a vegetarian capsule that quickly releases the liquid contents to help facilitate effective absorption of nutrients. Licaps improve the solubility and bioavailability of ingredients.
Vegetarian OmegaQ10 is potency-enhanced with Futurebiotics BioAccelerators. Clinically-proven Bioperine† (Piper nigrum extract) improves nutrient bioavailability, while our proprietary natural compound of Ginger extract, Trikatu, and super-potent Digezyme† boosts digestion and absorption.
Vegetarian OmegaQ10 - taking inspiration from Nature. This 100% vegetarian product has an aromatic botanical essence added. Glass packaging extends natural freshness and helps maintain potency.
Free Of
Added yeast, sugar, salt, starch, corn, wheat, gluten, dairy, artificial colors and preservatives.
Disclaimer
These statements have not been evaluated by the FDA. These products are not intended to diagnose, treat, cure, or prevent any disease.