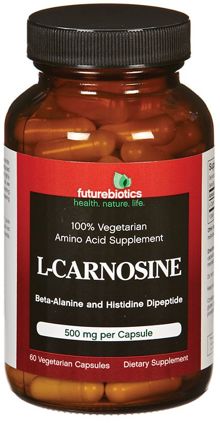 Futurebiotics L-Carnosine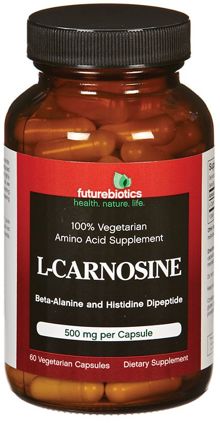 Futurebiotics L-Carnosine
L-Carnosine is a dipeptide of the amino acids beta-alanine and histidine. As we age, natural production of L-Carnosine drops. Supplementing the diet with L-Carnosine offers a beneficial way of increasing and maintaining L-Carnosine levels in the body.* L-Carnosine has antioxidant properties, and supports healthy aging and cellular rejuvenation.*
100% Vegetarian Amino Acid Supplement
Beta-Alanine and Histidine Compound
Features & Benefits
Carnosine is a small molecule composed of the amino acids histidine and alanine. L-Carnosine is naturally produced in the body by the enzyme carnosine synthetase. This dipeptide is found in skeletal muscle, heart muscle, skin, stomach, nerve tissue and brain.
Multiple studies suggest that Carnosine has antioxidant potential. Has been called the anti-aging and antioxidant dipeptide; also referred to as a longevity nutrient in laboratory studies.*
Supports healthy aging and cellular rejuvenation by its effects on glycosylation and free radical damage.* Glycosylation is the oxidation of proteins by glucose, which is implicated in loss of cell function, genome integrity and accelerated aging.*
Protects the aging process of the brain by retarding lipid peroxidation and stabilizing cell membranes.*

Futurebiotics L-Carnosine

supplies 500 mg of pure L-Carnosine per vegetarian capsule.
100% vegetarian supplement. Convenient, easy-to-swallow capsule dosage form.
Glass packaging extends natural freshness and helps maintain product potency.
Contains no added yeast, sugar, salt, starch, wheat, gluten, diary, artificial colors or preservatives, or animal products.
L-Carnosine should not be confused with L-Carnitine – they are different amino acids and not the same.