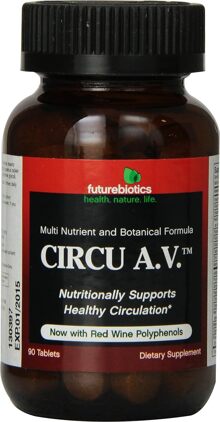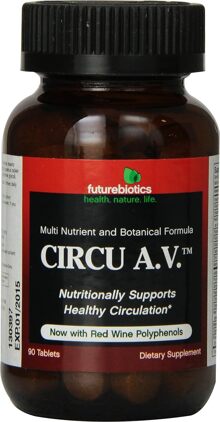 Circu A.V. Description from FUTUREBIOTICS
Proper circulation is vital for good health and longevity. Nutrition, including adequate vitamins and minerals, plays an important role in healthy circulation. Nutritional deficiencies are often evident with poor circulation and its impact on the body. Circu A.V. is a multi-nutritional approach to nutritionally supporting healthy circulation by helping to provide nutrients that may be lacking from the diet.

Among the nutrients included in Circu A.V. is Niacin (nicotinic acid), a B vitamin. Niacin is a vasodilator, meaning it dilates the veins and increases blood flow. Niacinamide is another form of Niacin. Circu A.V. contains a combination of both Niacin and Niacinamide as part of a unique B vitamin complex. B vitamins play a role in energy production and circulation. Vitamin C is also included and supports the immune system and healthy circulation.

The health benefits of Red Wine have been the focus of extensive research over the last several years. Research shows that it isn't the alcohol that gives Red Wine its health benefits but the naturally-occurring active compounds, including polyphenols, which are found in the grapes used to make the wine. Circu A.V. contains Red Wine extract, standardized for 24% polyphenols, which provides all the heart-healthy benefits of Red Wine without the alcohol. Further support is provided by a variety of botanicals including Cayenne, which acts as a natural circulatory stimulant, Alfalfa leaf, Prickly Ash bark, Ginger and Peppermint.

Circu A.V. is potency enhanced with Futurebiotics exclusive BioAccelerators. Clinically-proven Bioperine (Piper nigrum extract) improves nutrient bioavailability, while our proprietary natural compound of Lactospore probiotics, Ginger root extract, Trikatu and super-potent Digezyme digestive enzymes help boost digestion and nutrient absorption.
Supplement Facts
Service Size: 2 tablets
Servings Per Container: 45
Ingredient
Amount
% Daily Value**
Vitamin C
100 mg
167
Vitamin B1
8 mg
533
Vitamin B2
8 mg
471
Niacin
43 mg
2170
Vitamin B6
20 mg
1000
Folic Acid
133 mcg
33
Vitamin B12
10 mcg
167
Calcium
18 mg
2
Zinc
5 mg
33
Manganese
5 mg
250
Alfalafa Leaf
200 mg
Prickly Ash bark
200 mg
Ginger root
200 mg
Peppermint leaf
100 mg
Citrus Bioflavonoids
50 mg
Oyster Shell
50 mg
Red Wine Extract
50 mg
Betaine hydrochloride
20 mg
Cayenne Fruit
10 mg
Futurebiotics BioAccelerators
8 mg
(Bioperine, Ginger Root, Trikatu, Digezyme, Lactospore)
** Percent Daily Value is based on a 2000 calorie diet. Your daily values may be higher or lower depending on your calorie needs.
† Daily Value not established.

Manufacturer's Directions
As a dietary supplement for adults, take 2 tablets 3 times daily with meals or as directed by a healthcare professional.
Manufacturer's Disclaimer
Niacin may cause flushing, itching or a skin rash for a short time after ingestion. This reaction is normal and harmless; however, if you experience any discomfort, discontinue use. Do not use if you are pregnant or nursing. Keep out of reach of children.