Warning: This product is not currently available at any store.
Click the button above and PricePlow will email you when the first store has it in stock!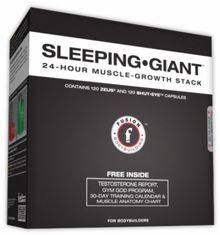 Fusion Bodybuilding Sleeping-Giant
SANTANA ANDERSON
& MARK RICHMAN
IFBB PRO & NATIONAL LEVEL ATHLETE
SLEEPING•GIANT – 24-HOUR MUSCLE-GROWTH STACK*
HOW THE STACK CAME TO BE
SLEEPING•GIANT was developed thanks to the savvy and insightful use of FUSION BODYBUILDING products by dedicated bodybuilders. It was they who initially brought together the test-boosting power of FUSION's ZEUS and unique muscle-sleep-inducing qualities of FUSION's SHUT•EYE to form this new stack. Now FUSION BODYBUILDING has made it simple for everyone to awaken their muscle-building giant by offering these products together in SLEEPING•GIANT.*
THE SCIENCE BEHIND ZEUS
ZEUS is clinically proven to increase free testosterone levels in humans by an amazing 98.81% in only 8 weeks.1 Armed with Testofen, ZEUS's Test Booster Complex contains steroidal saponins that will help you build a bodybuilder's body.*
The following graph shows the human effects of taking ZEUS for only 8 weeks:*
ZEUS binds with your muscle cell receptors, instantly changing the "operating instructions" of your muscle cells, forcing them to increase protein synthesis – so you get stronger and build muscle – FAST!2,3,4*
ZEUS simultaneously increases your heat generation, so you burn fat for fuel. Best of all, ZEUS keeps working and stimulates post-workout muscle building, so you recover faster than ever!*
The aggressive test-boosting properties of ZEUS initiate the following process.*
TESTOSTERONE
STEROID RECEPTOR
NUCLEUS
DNA
New protein production and multiple biological effects.
SCIENTIFIC REFERENCES
Gencor Pacific Inc. (2005). Testofen human clinical trial. Testofen is a registeredtrademark owned by Gencor Pacific Inc., USA.
Ang, H. H., & Cheang, H. S. (2001, October). Effects of Eurycoma longifolia jackon laevator ani muscle in both uncastrated and testosterone-stimulatedcastrated intact male rats. Arch Pharm Res, 24(5), 437–40.
Russell, B., Motlagh, D. & Ashley, W. W. (2000). Form follows functions: howmuscle shape is regulated by work. J Appl Physiol, 88, 1127–1132.
Alway, S. E., Gonyea, W. J. & Davis, M. E. (1990). Muscle fiber formation andfiber hypertrophy during the onset of stretch-overload. Am J Physiol (CellPhysiol.), 259, C92–C102.
FREQUENTLY ASKED QUESTIONS
How will I be on ZEUS?
It is important to note that ZEUS does not contain any stimulants – there is no need for them. ZEUS does one thing only – it boosts your test levels. You do need to take it consistently and but when ZEUS kicks in you'll feel like a gym god. Big, strong and confident! ZEUS will increase your appetite and tighten your skin, and you'll notice an increased density in your muscle bellies.*
Can I drink alcohol while taking ZEUS?
Sure you can drink alcohol while taking ZEUS, but remember, alcohol consumption will slow down your bodybuilding gains.*
How long will it take before I see results?
You're not foolish enough to believe ZEUS is going to flip on some magical testosterone switch. It takes 3 to 6 weeks before you see results.*
Do I have to cycle ZEUS?
No, you do not have to cycle ZEUS, but if you choose to, use for 12 weeks on followed by a 4-week rest period.*
Who can use ZEUS?
ZEUS has been developed exclusively for bodybuilders. As with any diet, exercise or supplement program you should consult with a medical professional before you begin. Always read the entire label before using any supplement product, and follow all directions.*
THE SCIENCE BEHIND SHUT•EYE
Science Proves You Need Muscle Sleep If You Want To Grow.*
The one big problem with most creatine supplements is they become very unstable SHUT•EYE is a patented and human clinically proven, non-habit-forming, muscle-sleep inducer.1 Muscle sleep is a bodybuilder must, and so is SHUT•EYE. Muscle sleep can happen approximately five times throughout the night. Muscle sleep can happen within 90 minutes after you first go to sleep, and it lasts for 10 minutes. Throughout the night, each successive phase of muscle sleep can last longer and longer. If you achieve the final occurrence of muscle sleep, it can last for up to one hour. But if you aren't achieving muscle sleep, you're not maximizing your growth. That's why SHUT•EYE is so vital.*
The white bars on the graph are the times during your sleep cycle you build the most muscle – this is called muscle sleep. Muscle sleep means muscle growth2.*
These are the bodybuilding benefits of achieving muscle sleep that SHUT•EYE provides.*
SHUT•EYE INDUCES
MUSCLE SLEEP
SCIENTIFIC REFERENCES
Next Pharmaceuticals, Inc. (2006). Seditol human clinical trial.
Thompson, K., et al. (1995). Effects of short-term cortisol infusion on growthhormone-releasing hormone stimulation of growth hormone release in sheep.Am J Vet Res, 56, 1228.
FREQUENTLY ASKED QUESTIONS
How does SHUT•EYE work?
Muscle sleep can be difficult to achieve. SHUT•EYE is specially formulated to induce this unique level of sleep. SHUT•EYE contains a special muscle-sleep complex that helps you get to sleep faster and stay asleep longer, all without being habit-forming. Ingredients in the muscle-sleep complex also have the added benefit of reducing cortisol secretions, lowering their muscle-wasting potential. SHUT•EYE also contains a muscle growth complex. It stimulates growth-hormone production and increases the blood circulation that delivers the hormones to your needy muscles. SHUT•EYE has been proven to work through clinical trials done on humans. This patented formula has been scientifically formulated to induce and enhance muscle sleep, ensuring you build the most muscle possible.*
What is muscle sleep?
Muscle sleep is the natural state in which your body focuses on the muscle growth and repair process. It's the most anabolic stage of your sleep cycle. This critical stage of sleep is when your body amplifies the benefits of regular sleep and translates them into muscle growth. Your secretions of the anabolic hormones testosterone and growth hormone are increased,1 while simultaneously the delivery of oxygen and nutrient-rich blood to your muscle is also boosted.*
Why is mucle sleep so vital?
Muscle sleep is the most anabolic stage of sleep. It's when your testosterone and growth-hormone levels are at their highest. This vital stage of sleep translates into serious muscle growth. It's the payoff for all your hard work in the gym. The problem is that muscle sleep is the final stage of your sleep cycle and is by far the hardest stage to achieve. That's why you need SHUT•EYE.*
How do I use SHUT• EYE?
Take your SHUT•EYE 60 minutes prior to sleep. Do not take SHUT•EYE before any daytime naps.*
Is SHUT•EYE habit-forming?
No, SHUT•EYE is not habit-forming.*
Will SHUT• EYE make me feel drowsy in the morning?
No. When you wake up, you'll feel refreshed and ready to take on another day of eating and training.*
SCIENTIFIC REFERENCES
Thompson, K., et al. (1995). Effects of short-term cortisol infusion on growthhormone-releasing hormone stimulation of growth hormone release in sheep.Am J Vet Res, 56, 1228.