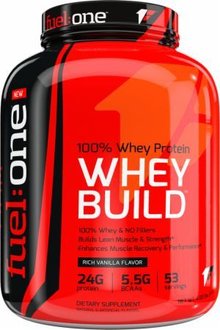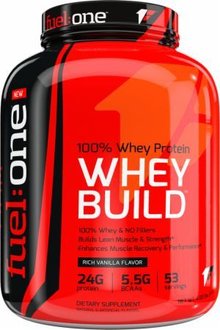 Whey Build
100% Whey & Absolutely NO Fillers
WHEY BUILD is proudly made with ultra-filtered 100% whey protein concentrate, isolate, and hydrolysate for an ultra-clean formula you can trust. Plus, it's instantized for easy mixing and a mouthwatering taste you'll love. Build your muscles with a superior formula that delivers superior taste.
The truth is that not all protein supplements are created equally. Unlike inferior proteins that use heat, harsh acids, and salt, WHEY BUILD features ultra-premium whey that undergoes a cold-pressed microfiltration process for the ultimate in quality and purity.
Builds Lean Muscle & Strength
WHEY BUILD fuels your one with 24g of premium protein that delivers 5.5g of BCAAs and 4g of glutamine and precursor – everything you need from a protein to fuel your muscles, trigger protein synthesis, and accelerate recovery. Whether it's one more workout, one more rep, one more ride, or one more win – we fuel your one.