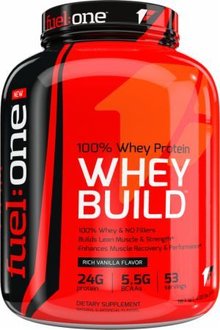 fuel:one Micellar Whey Build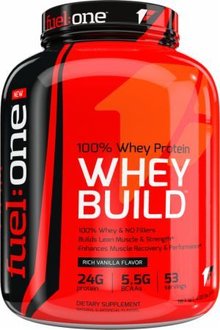 fuel:one Micellar Whey Build
THE WORLD'S ONLY SUSTAINED-RELEASE WHEY
Ultra-Anabolic Sustained-Release Protein
MICELLAR WHEY BUILD
24G
protein
5.5G
bcaas
4G
glutamine & precursor
The World's First & Only Sustained-Release Whey
MICELLAR WHEY BUILD fuels your one with the world's first micellar whey protein. As you know, whey protein rapidly delivers a superior dose of leucine compared to other protein sources. Plus, it has the highest Biological Value. However, its anabolic powers don't last as long as those of a sustained-release protein. Introducing fuel:one MICELLAR WHEY BUILD. This innovative protein formula provides the key anabolic amino acids of whey protein (lots of leucine and additional BCAA content), but at a sustained-release pace. That makes it an ultra-anabolic sustained-release protein!
The Power of Whey at the Speed of Casein
Truly the best of both worlds, micellar whey is a brand new patent-pending protein source exclusive to fuel:one. Our micellar whey starts with an incredibly pure source of whey protein. We then apply an advanced protein polymerization technology to create protein particles with double the molecular weight of regular whey protein particles. The larger protein molecules take longer to digest, thus allowing the amino acids to release more slowly into your bloodstream for long-term anti-catabolic support.
The micellar whey molecule is double the weight of a normal whey molecule, which slows the rate of hydrolysis over time, while still providing high levels of key amino acids like leucine.