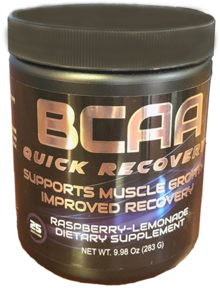 Freedom Fit BCAA Quick Recovery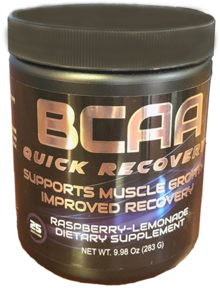 Freedom Fit BCAA Quick Recovery
6,000mg Branched Chain Amino Acid PLUS 3,000mg Micronized EAA Supplement.
The Bigger Picture of Branched Chain Amino Acids (BCAAs)-L-Leucine, L-Isoleucine, and L-Valine are commonly grouped together and referred to as Branched Chain Amino Acids, or BCAAs, because of their unique branched chemical structure. (BCAAs) are essential, meaning that they must be consumed through the diet, since the human body cannot make them from other compounds. BCAAs have long been used by strength-training and endurance athletes alike to activate muscle synthesis and reduce muscle breakdown caused by intense training.
Essential Amino Acids (EAA's) are required for complete protein synthesis.
-Studies have shown that EAA's are better utilized by the body pre-training and a high requirement for BCAA's is needed post-workout to help speed up the recovery process.
These statements have not been evaluated by the Food and Drug Administration. This product is not intended to diagnose, treat, cure, or prevent any disease.