Warning: This product is not currently available at any store.
Click the button above and PricePlow will email you when the first store has it in stock!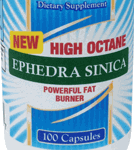 Foundation Nutriceuticals High Octane Ephedra Amp
Sold Out!

High Octane Ephedra AMP contains 50mg of real ephedra combined with Adenosine Monophosphate (AMP) to create the best weight loss pill Foundation Nutriceuticals has ever developed. Now the best fat burning ingredient of our generation with ephedra has been synergistically blended with metabolism boosting properties of AMP.

Adenosine Monophosphate which is referred to as AMP is designed to work with a person's mitochondria which are what burns energy inside muscle cells. The goal with taking Adenosine Monophosphate is to increase a person's ability to burn more calories through greater mitochondria production.

To make High Octane Ephedra AMP even better is the addition of 4-Amino2-Methylpentane Ctirate which has been found to have effective properties to increase energy, mood, and focus.

High Octane Ephedra AMP is made with the highest quality weight loss ingredients and makes a great addition to achieve fitness and nutrition goals.

Supplement Facts:
Serving Size: 3 Capsules
Servings Per Container: 30

Amount Per Serving: Ephedra AMP Blend: 1200mg - 4-Amino-2-Methylpentane Citrate (750mg), Phenylethylamine, HCL, Picamilon, Methyl Synephrine, Adenosine Monophosphate HCL, Yohimbe, Hordenine HCL, Dendrobium (1% Alkaloids) Huperzine A.

Caffeine Anhydrous HCL 300mg

Other Ingredients: gelatin, magnesium sterate, steric acid.

Directions: Take one capsule three times per day. Do not take less than 4 hours prior to bedtime

Warning: Do not use if under the age of 18. Do not exceed recommended dosage during 24 hour period. Do not take less than 4 hours prior to bedtime.

These statements have not been evaluated by the Food and Drug Administration. This product is not intended to diagnose, treat, cure, or prevent any disease.