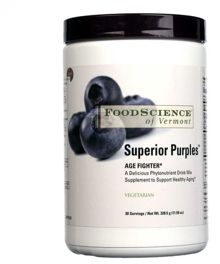 FoodScience of Vermont Superior Purples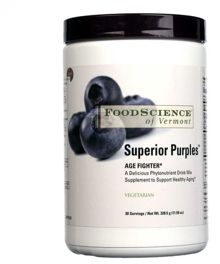 FoodScience of Vermont Superior Purples
FoodScience of Vermont - Superior Purples Age Fighter - 328.5 Grams (11.59 oz.)

FoodScience of Vermont Superior Purples Age Fighter is a delicious healthy aging drink mix that combines 19 whole fruits, vegetables and extracts. Some of nature's most protective foods are darkly colored fruits & vegetables because they naturally contain potent antioxidant Vitamin C and a variety of cell protective nutrients. Also included are healthy aging nutrients: Alpha GPC, L-Carnosine and Folic Acid to support mental energy, focus and clarity. Superior Purples has a delicious berry flavor enhanced by the natural sweetness of stevia and purple carrot. All the fruits and vegetables used in this formula are pesticide-free.

Superior Purples contains powerful color-rich phytonutrients that support:
Healthy Aging
Circulation & Vascular Health
Memory
Smooth, Healthy, Radiant Skin
Mental Clarity & Focus
Immune System Function
Cell Health & Function
Nerve and Brain Function
About FoodScience of Vermont

With over a quarter century of experience in producing the highest quality nutritional supplements available, FoodScience of Vermont has created an exceptional line of products including herbal supplements, essential fatty acids, digestive enzymes and joint supplements. Their formulas have been developed based on the latest scientific research to include nutrients like alpha lipoic acid, lycopene, phosphatidylserine and natural herbs like pygeum, saw palmetto, ginkgo biloba and grape seed extract.

FoodScience of Vermont pride themselves on the fact that they use the purest, highest quality, most natural nutrients available to produce all of their formulas. Their nutritional research focuses on the complex relationships that exist among available nutrients. FoodScience of Vermont's extensive, unparalleled research into the exciting properties of N, N-Dimethylglycine (DMG) has significantly broadened the boundaries of knowledge relative to this vital nutrient.

Raw materials used in FoodScience products are evaluated for quality, purity and potency before they are approved for use in their products. Superior quality control and good manufacturing procedures are followed at all times to guarantee that their exacting standards are met.

All ingredients used are guaranteed to contain no artificial flavorings, preservatives, colors, sweeteners or other foreign substances. Most FoodScience products are yeast, sugar, and starch free.

It is the intention of FoodScience to expand nutritional awareness through professional publications. The Research and Development Department is under the direction of a Ph.D nutritional biochemist with over 20 years experience in nutritional research and product development.

FoodScience has supported nutritional research studies at the following institutions:
• University of Southern California Medical School, Los Angeles
• Medical University of South Carolina, Charleston
• Institute for Child Behavior Research, San Diego, California
• San Diego State University, California
• Northern Kentucky University, Highland Heights
• Bartholomew Clinic, Bluefield, West Virginia
• Southern Florida Medical School, Tampa
• University of Bridgeport, Bridgeport, Connecticut
• Rochester Equine Clinic, Rochester, New Hampshire
• Clemson University College of Sciences, South Carolina
FoodScience has made a commitment to provide you with the highest quality natural nutritional formulations for over 40 years. Just as important is the commitment to help support and keep the environment clean. All bottles are made from recyclable white, high-density polyethylene #2.

The packaging material is made from 100% recycled and recyclable paper. The catalogs are printed on recycled paper.
In the community FoodScience participates in recycling by taking all of the used office paper to the local recycling center.

Healthy living and a cleaner environment are what FoodScience is all about!