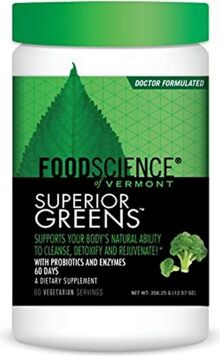 FoodScience of Vermont Superior Greens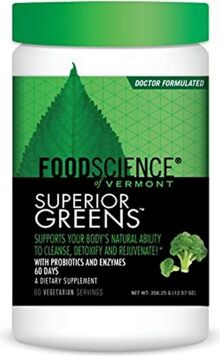 FoodScience of Vermont Superior Greens
FoodScience of Vermont Superior Greens Detoxifier Description
Vegetarian
Detoxifier is a drink mix supplement to support your body's ability to cleanse, detoxify and rejuvenate
Superior Greens is a combination of nutrient rich vegetables, fruits, herbs, herbal extracts, Chlorella, Sunflower Lecithin, Royal Jelly, Bee Pollen, enzymes, and probiotic cultures designed to support your body's ability to cleanse, detoxify and rejuvenate.

Superior Greens contains powerful phytonutrients that support
Detoxification functions
Immune system health
Antioxidant defense
G.I. Tract health
Directions
As a dietary supplement, mix 1 heaping scoop (11.88g) daily in 8 oz. of cold water or juice.