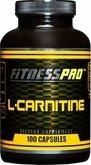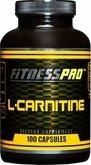 Carnitine Benefits:
Carnitine will give you an energy boost, and also helps you to convert body fat into fuel. This product elevates certain enzymes needed to metabolize sugars, starches, and other carbohydrates.
Athletes can benefit from carnitine supplementation because it reduces the accumulation of lactic acid, which is responsible for muscle ache after an intense workout.
Carnitine helps to prevent muscle atrophy. Anyone suffering from a severe degenerative disease, such as cancer or AIDS, may benefit from carnitine supplementation.
It has been suggested that taking 2 grams of carnitine per day for four weeks can cut the number of complications from heart attack, including angina (chest pain) and heart rhythm disturbances.
Supplement Facts:
Serving Size: 2 Capsules
Servings Per Container: 50
Amount Per Serving:
L-Carnitine
500 mg
(L-Carnitine L-Tartrate)
Other Ingredients: White Rice Flour, Gelatin from Capsule, Magnesium Stearate.
Note: Manufacturers continually change product specifications. While we try our best to keep product descriptions up to date, they do not necessarily reflect the latest information available from the manufacturer. We are not responsible for incorrect or outdated product descriptions and/or images.
These statements have not been evaluated by the Food and Drug Administration. This product is not intended to diagnose, treat, cure, or prevent any disease.