Warning: This product is not currently available at any store.
Click the button above and PricePlow will email you when the first store has it in stock!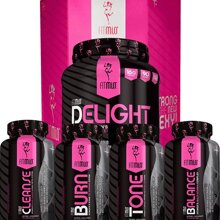 FitMiss Her Bizzy Diet Stack
Delight
Delicious, Nutritious, Satisfying, and Gluten Free*
High in Protein, Quality Calorie Mix that Helps You Lose Weight*
Includes Solathin, that Helps with Making You Feel Full Faster*
Added B Vitamins and Probiotics
FitMiss Delight brings a full day's essential nutrients with quality calories and delivers optimal levels of protein, digestive enzymes, vitamins, and minerals. The source of this natural goodness is a unique blend of fruits and vegetables. The protein mix contains whey isolate protein that digests and absorbs rapidly, along with the newest weight-loss innovation, Solathin. This vegetable-based protein helps you feel full faster. The gluten-free balance of carbohydrates, fats, and high-quality proteins provides sustained energy and appetite satisfaction.
Balance
24 Vitamins and Essential Minerals
100% DV for Iron, and Other Minerals
Loaded with B Vitamins for Energy and Metabolism Support*
Includes Multivitamin Specially Formulated for Women*
Life can be tricky. Especially for the high-intensity woman. In order to maintain your pace, you need to keep your body, bones, muscles and skin supplied with the right amounts of vitamins, minerals and probiotics. That's why we made FitMiss Balance. With loads of vegetable and fruit derivatives plus antioxidants, FitMiss Balance has everything a girl needs to keep her body… balanced.*
Burn
6 Stage Fat Loss System
Appetite Reduction & Fat Metabolizer*
Anti-Stress & Mood Balancer*
Water Shed Diuretic Complex
At FitMiss we know that to burn the fat, you have to curb the cravings and increase energy levels. With FitMiss Burn on your side you can kick-start your metabolism and say "NO" to pesky cravings once and for all. Stay focused while annoying fat simply vanishes. It's time to get fit and sexy!*
Cleanse
Promotes Daily Regularity
Daily Weight Maintenance Support*
Cleanses, Protects & Regulates Your System Daily*
FitMiss Cleanse offers a full body cleansing and detoxification system for your colon, liver, kidneys, stomach, blood, urinary tract, lungs, and skin. With a daily cleanse, clothes may fit loosely in the stomach area due to waste elimination. Cleanse is fast and powerful, yet gentle enough for travel, work, and a normal routine. Removing toxins and accumulated waste eases bloating and gas, fights parasites and bacteria, and improves your health and energy.*
Tone
Reduces Body Fat*
Supports Body Shaping & Toning*
Promotes Healthy Metabolism*
FitMiss Tone is what you need to help turn your body into a lean, fat-burning machine! The active ingredients in FitMiss Tone will help you blast away fat and boost your metabolism. So while you are out there turning heads, remember… FitMiss Tone helped you get there.*