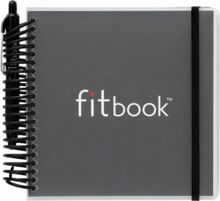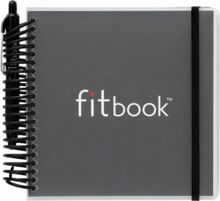 Additional Images:
Click to Enlarge
Meet fitbook PREP – created by fitlosophy with figure champion Nicole Wilkins, this is the first ever fitness + nutrition journal for fitness competitors to get you prepped + ready to take the stage. fitbook PREP is a 12-week guided journal designed to help you plan for a fitness competition, track your progress, and reach your goals with Nicole coaching you every step of the way.
12-week PREP plan page to set your workout + nutrition goals, with space to plan workout splits leading up to competition day.
Weekly planning pages to schedule workouts + plan meals to prep, set goals + rewards to motivate you throughout the week, a weekly PREP checklist to keep you on track. bonus: weekly fit tips from Nicole Wilkins!
Daily workout page to track gains - including space to record strength training exercises, cardio, class/flexibility, and notes.
Daily fuel log to record healthy eats - with space to jot down meals, macros + emotions, plus trackers for nutrients, supplements, water + sleep.
Weekly wrap-up pages to reflect on your week, measure progress, and stay on track with week-by-week competition prep tips + inspiration from Nicole Wilkins, guiding you every step of the way as you take the stage!
Measure-up monthly check-in pages to revisit your goals, dial it in, jot your thoughts + take measurements so you're progressing as planned.
BONUS: competition bag checklist created by Nicole Wilkins to ensure you have everything you need to take the stage + be prepared on competition day!
Need fit fuel to power up your busy lifestyle? keep the fitfuel mixer handy to power-up your workouts, stay fueled in a time crunch, or grab a quick snack on-the-go! plus, It's nifty in the kitchen – use it to mix up salad dressings or shake your scramble. Get ready for some serious mixing.