Quick Links to Best Prices Price History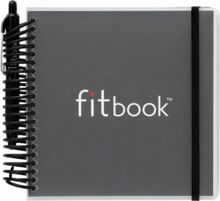 Daily Food Log Allows Precise Recording
Details:
6-week fitness + nutrition journal for those looking to lose a few lbs + create healthy habits.
Weekly challenges, motivation + tips to keep you on track to reaching your goals!
Track food + workouts daily with coaching every step of the way.
Simple format with research-backed, fitlosophy-approved tips, including details on what to do and why it works. 
Integrates with activity trackers so you can log your digital digits daily + earn rewards for reaching goals!
Free Stuff
ebook that includes recipes, meal plan, tips, guides, and more!
FREE goal-setting app to help you determine a realistic, healthy 6-week goal.
"I LOVE fitbook lite because it's the perfect 6-week program that holds me accountable. I set my goals, follow the 4 tweaks, track my food and fitness and then look back on the week to see what I accomplished! It's the perfect size and I carry it around with me everywhere!"
:: Allison