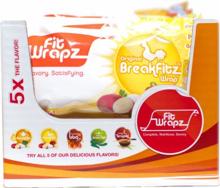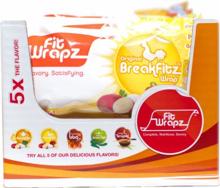 Important Shipping Information
Item will be shipped separately from the supplier and may take up to 5 business days for delivery. Trust us - it's worth the wait!
Fit Wrapz are a line of all natural premium burritos.Three savory chicken varieties and two breakfast wraps provide the perfect meal for any time of the day.

Our chicken burritos are made with white meat chicken, steamed brown rice, rBST-free mozzarella cheese, and fresh sauces from scratch. While the breakfast wraps have lean ground turkey, rBST-free mozzarella or sharp cheddar cheese, roasted red potatoes tumbled in an extra virgin olive oil spice blend, and scrambled cage-free egg whites. All burritos are rolled in tortillas made exclusively for Fit Wrapz from 100% whole wheat, 51% whole grain, low in sodium and preservative free. Each Fit Wrapz burrito has 21-24g complete protein, 5-6g fiber, and is an excellent source of Iron, Calcium, Vitamin C and Vitamin A.

Fit Wrapz meet the Institute of Medicine and American Dietetic Association recommendations for carbohydrates, protein and fat balance. They are also backed by a B.S. in Health Science, Apex nutrition, DotFit nutrition, NASM, USAW, PES and Parisi certifications, as well as over 23 years combined experience in the fitness industry.

Best of all, as part of a fitness program Fit Wrapz take the guesswork out of eating and taste amazing!