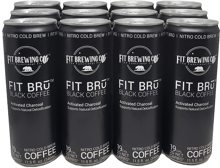 Fit Brewing Co FIT BRŪ Coffee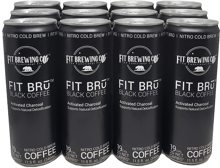 Fit Brewing Co FIT BRŪ Coffee
Creamy, Smooth, and never Bitter - 110 Calories, Zero Sugar, 3g Net Carbohydrates, 6g of Healthy Fats

Our Vanilla Latte Coffee Contains FIT BRŪ Original Blend - Our Blend (Ashagandha Root (ksm-66), Choamine, Shilajit Fulvic Acid Complex (primavie), Theacrine (Teacrine) Was Composed To Deliver a Balance in Mood, Energy, and Focus, While Supporting Healthy Cellular Function.

When we are pushing ourselves to be our best selves day in and day out, we take in and release unwanted toxins.

Push through the demands of life with support and natural energy we need.

Caffeine per 12 fl. oz. can of Nitro Cold Brew Coffee Fit Brū: 250mg * From the sourcing of non-gmo coffee beans to the final touches in our look, flavor, and feel you will never find another cold brew coffee or tea that has your life goals in mind.
More