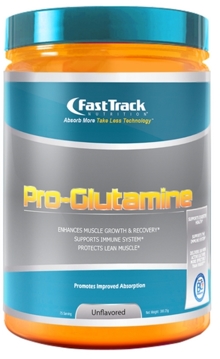 Fast Track Nutrition Pro Glutamine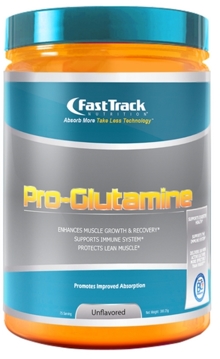 Fast Track Nutrition Pro Glutamine
Benefits:- Enhances muscle growth & recovery
- Supports immune system
- Protects lean muscle
- Promotes improved absorption
- Supports digestive health
- Supports the immune system
- Delivers 10X more active cultures more effectively than yogurt
At Fast Track Nutrition we have but one goal, to get your hard working body the nutrition it needs to thrive. No longer do you have to over think or over take supplements to get minuscule amounts of ingredients and little benefit.
Our delivery system binds superior nutrition with probiotic powerhouse GanedenBC30 getting it to your digestive tract where it's absorbed quickly and completely. Our Absorb More Take Less Technology means you get the support your body needs, and the results you deserve at a price that makes sense. Welcome to the Fast Track.
Glutamine is the most abundant of 22 standard amino acids in the body, accounting for up to 60% of the body's free amino acid supply. During intense training, Glutamine levels are greatly depleted in the body, which can decrease strength, stamina and recovery. Glutamine is a building block for protein synthesis and important in skeletal muscle protein regulation. Glutamine prevents the breakdown of muscle tissue and has an anti-inflammatory effect helping to reduce soreness and assisting in recovery. Needed for optimal performance, Glutamine is a natural antioxidant, keeping the immune system fueled during intense exercise
ADDED BENEFITS: Stacks well with Pro Meal, Fast Whey, Fast Gainer, Pro Creatine and Pro BCAA.
These statements have not been evaluated by the Food and Drug Administration. This product is not intended to diagnose, treat, cure, or prevent any disease.