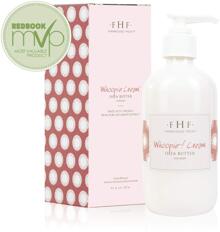 FarmHouse Fresh Whoopie! Shea Butter Cream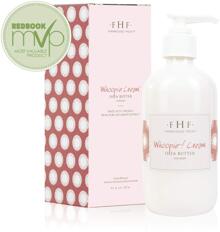 FarmHouse Fresh Whoopie! Shea Butter Cream
MoisturizeThis brand new Shea Butter whip is a jarful of joy!
Lightly scented with fond memories of white velvet cream and moist layer cake, it is hard to resist as a start to each morning... or a sweet farewell to each day.  Inspired by the famous comfort treats -Whoopie Pies. Farmers would find these handmade creamy cake-like delights in their lunchbox and shout "Whoopie!" 
We hope this every day cream becomes your every day delight, too...
The supple butters and Vitamin E packed Jojoba and Soybean oils calm even the severest of dry skin.  A giftably gorgeous 10 ounce glass jar and fun box makes a pretty keepsake.
No Parabens, SLS or Mineral Oil
Benefits:
Softens and soothes dry, chapped skin
Calms many irritations and allergies, including sunburns
* These statements have not been evaluated by the Food and Drug Administration. This product is not intended to diagnose, treat, cure, or prevent any disease.