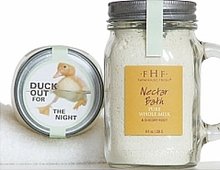 FarmHouse Fresh Nectar Bath Pure Whole Milk & Chicory Root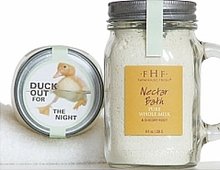 FarmHouse Fresh Nectar Bath Pure Whole Milk & Chicory Root
Includes 16 oz. reusable vintage-style glass mug with metal lid, for 8 deep-tub baths.  Jar beckons you to "Duck out for the night."

No Parabens, SLS or Mineral Oil

Benefits:
Proteins, amino acids and lactic acid calm and soothe dry, upset skin
Chicory root reduces swelling and inflammation, improving skin's texture
Natural fats and Vitamins A and D smooth and condition skin, and reduce dryness
On The Farm, we dream, develop & hand assemble exquisite products that bring delight with every use.
Our ingredients are ripe.  Our products are Paraben & Sulfate free, and each is infused with farm inspired natural ingredients like Honey, live Papaya cells & Rice Bran Oil.
Whimsical.  Nostalgic.  Giftable.
For even your finickiest friends
Made in the USA
* These statements have not been evaluated by the Food and Drug Administration. This product is not intended to diagnose, treat, cure, or prevent any disease.