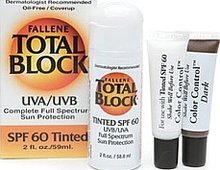 Fallene Total Block Tinted Cover-UP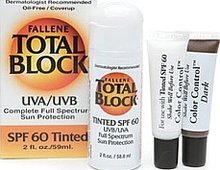 Fallene Total Block Tinted Cover-UP
Dermatologist Recommended Oil Free/Cover Up
UVB/UVA Full Spectrum Sun Protection
Total Block SPF 60 Tinted
has been specifically formulated for individuals who require full spectrum protection from the sun's damaging effects.
Total Block provides complete full spectrum sun protection of UVA/UVB light.
Total Block contains a complete cellular and photo protective system. The only such topical products available, anywhere.
Total Block SPF 60 Tint is an individually customizable foundation makeup, that can be lightened or darkened to match a wide variety of skin tones.
UVA-Same Everyday...
UVA radiation, unlike UVB, is consistently the same all day long, all month long, and all year long. UVA rays present almost the same damaging effects to the skin in December at 9 a.m., as they do in July at 4 p.m. UVA radiation is consistently damaging, and in fact, enters deeper into the skin than UVB and are believed by many physicians to be more harmful, which is why patients with sun sensitivity require daily, year round complete protection.
SPF - Not Enough
The Sun Protection Factor (SPF) number is not a completely accurate determination of a sunscreen's capability of protecting the skin from the sun's harmful rays. SPF is only an indication of protection from one wavelength of light, the UVB. It does not indicate protection from UVA rays, which are responsible for deeper skin damage, including tanning, wrinkles, pigmentation changes and premature skin aging. Currently there is no rating system for UVA protection.
External use only
Avoid eye contact
Keep out of children's reach
If swallowed, contact medical help immediately
Stop using product and contact a physician if rash or irritation develops
Not recommended for children under 6 months of age.
* These statements have not been evaluated by the Food and Drug Administration. This product is not intended to diagnose, treat, cure, or prevent any disease.