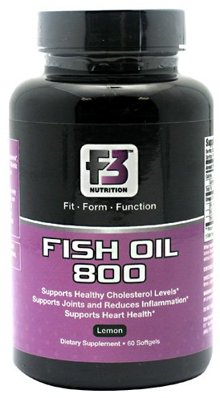 F3 Nutrition Fish Oil 800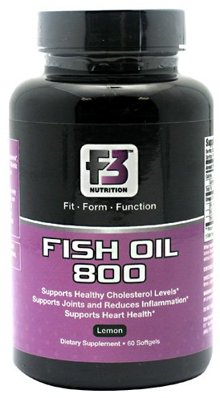 F3 Nutrition Fish Oil 800
Swipe left/right to reveal product information
Fit • Form • Function
Omega-3s have been found to increase HDL cholesterol ("good cholesterol"), help with hypertension and can act as an anticoagulant. Athletic benefits may include reduced inflammatory response from exercise, and quicker recovery from fatigue.*
Testosterone Levels*
Immune System*
Reduce Inflammation*
Heart Health*
Joint Health*
Lung Performance*
Energy & Stamina*
Weight Loss*
Brain Function*
F3 Nutrition's Fish Oil 800 supplies 800mg of Omega-3s only from deep water fish, not farm raised. The fish are found off the cold waters in South America and are mainly mackerel, anchovies, salmon and tuna. The oils have been cleaned and detoxified for a purer, safer, and more potent product with no burp-back after effects.
Fish Oil 800 delivers 410mg EPA and 315mg DHA in every odorless, lemon flavored capsule. EPA and DHA are both forms of Omega 3 essential fatty acids (EFAs). As humans we cannot produce them ourselves so it is "essential" to get them elsewhere. The best way to have them introduced to the body is through foods or supplements.
Fish oil is highly regarded for its rich concentration of the essential Omega-3 fatty acids. Omega-3s are used in the formation of cell walls, making them supple and flexible, as well as improving circulation and oxygen uptake with proper red blood cell function. Omega-3s have been widely accepted by the medical and scientific community for the support of cardiovascular, brain, and nervous system health.*
When athletes get their essential fatty acid intake balanced and in the right quantities, their performance both in strength and endurance greatly improve. Omega-3s help reduce inflammatory response from exercise, recovery from fatigue becomes quicker, and muscle growth is enhanced through supplementation of this essential nutrient.*
Frequently Asked Questions
What are Omega 3s?
Omega 3 is an essential fatty acid, which means it cannot be manufactured by our own bodies and therefore must be obtained through our diets. The thing is, most people's diets contain an insufficient amount of Omega 3. The only real reason fish and fish oil are considered so healthy is that they contain the omega 3 fatty acids docosahexaenoic acid (DHA) and eicosapentaenoic acid (EPA).
How much Omega 3 should I be taking?
The dose of omega-3 fatty acids depends on what you are using it for. For instance, if you are 30 years old and are just looking to reduce the likelihood of heart disease in your lifetime, then the suggested dosage on the label of 2 capsules per day is recommended. This daily dosage approximates the two servings of fish per week that has been shown in several large studies to be enough to have an impact on dangerous heart events. If you are trying to reduce triglycerides (The National Cholesterol Panel Adult Treatment Panel-III guidelines suggest triglycerides ≤150 mg/dl) then higher doses may be required.*
Should all athletes be taking Fish Oil supplements?
Fish oil is also highly recommended by nearly every well respected strength and conditioning coach, trainer, and diet/fitness/nutrition expert of any kind as one of the few supplements that should be taken by anyone with the goal of building muscle, losing fat or improving their fitness level or athletic ability in any capacity. When athletes get their essential fatty acid intake balanced and in the right quantities, their performance both in strength and in endurance sports improves.*
How beneficial is Fish Oil to the heart?
Omega-3s found in fish oil are good for heart health and healthy growth. Supportive but not conclusive research shows that consumption of EPA and DHA Omega-3 fatty acids may reduce the risk of coronary heart disease.*
Can Fish Oil benefit weight loss?
The Omega-3 fatty acids found in fish oils activate the enzymes responsible for burning fat. When combined with exercise & increased oxygen intake, they increase the metabolic rate, which has an effect of burning more fat and losing weight. Fish oil supplements that contain DHA prevent pre-fat cells from becoming fat cells by killing them. As a result, they help in weight loss by decreasing the accumulation of fat in the body. These supplements should be taken in conjunction with a high protein balanced diet, a healthy lifestyle and regular exercise.*
Do Omega 3 Fish Oils help to reduce inflammation?
Research shows that omega-3 fatty acids reduce inflammation. Omega-3 fatty acids from fish oil reduce inflammation by preventing production of pro-inflammatory signaling molecules. This may help to prevent serious illness associated with inflammation. Fish Oil has an advantage over aspirin and other OTC anti-inflammatories in that it will not cause an upset stomach and also helps the body produce hormones that fight the effects of physical and emotional stress.*