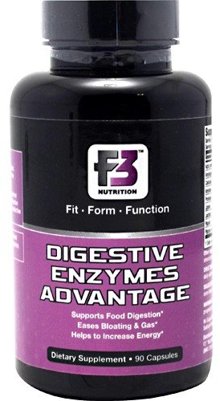 F3 Nutrition Digestive Enzymes Advantage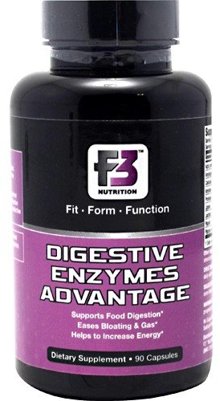 F3 Nutrition Digestive Enzymes Advantage
Plant-Based Digestive Supplement
Digestive enzymes assist in regulating all of the metabolic processes in our bodies while also ensuring that all of the nutrients we consume are fully absorbed. F3 Nutrition's Digestive Enzymes Advantage is made with plant based enzymes in vegetarian capsules. This broad spectrum blend of effective digestive enzymes will provide for proper digestion and effective assimilation of nutrients from any daily food source.*
Supports Food Digestion*
Eases Bloating & Gas*
Promotes Regularity*
Helps to Increase Energy*
Improves Mineral Absorption*
Supports Small Intestine to Promote Healthy Immunity*
Enhances Digestion of Milk Products*
Inhibits Yeast*
Vegetarian Capsules
Digesting… We all do it. But how well our bodies convert nutrition into something meaningful for our health is what really matters. Poor digestion may cost our bodies more nutrients and energy to process food than we gain from eating in the first place. Poor digestion leaves the body in the same predicament that poor nutrition does. An inadequate digestive system will "steal" enzymes from the immune system to operate, therefore weakening our immune function.*
Digestive Enzymes Advantage Key Ingredients
Protease – Aids in digestion of proteins.*
Lipase – Aids in digestion of fats.*
Amylase – Aids in digestion of carbohydrates.*
Papain – Aids in digestion of meats.*
Cellulase – Helps break down cellulose found in vegetables.*
Lactase – Helps break down lactose (Milk Sugar) found in dairy products.*
Frequently Asked Questions
What are digestive enzymes?
Digestive enzymes are found naturally in raw foods and in our digestive tract. They aid in the break down and digestion of the foods we eat into smaller blocks for better nutrient absorption.*
Why should I take Digestive Enzymes Advantage?
Insufficient enzyme production is at the root of much "tummy trouble" in our country. Digestive problems cost Americans $50 billion each year in both direct costs and absence from work. It is a sad fact that 90 percent of the food Americans buy is processed food. Diets heavy in cooked, processed, and sugary foods, combined with overuse of pharmaceutical drugs such as antibiotics, deplete your body's ability to make enzymes.*
Research has shown that your natural enzyme production starts to decline by the time you're about 20. Studies show that every ten years your body's production of enzymes decreases by 13 percent. So by age 40, your enzyme production could be 25 percent lower than it was when you were a child. And by the time you're 70, you could be producing only 1/3 of the enzymes you need.*
What are some of the symptoms of poor digestion?
If you suffer from occasional bloating, minor abdominal discomfort, and occasional constipation and suspect your enzyme production is low, you might want to consider taking Digestive Enzymes Advantage supplement in addition to eating more of your foods raw.*
When should I take Digestive Enzymes Advantage?
You should take the digestive enzymes with your meal or right after. The important point is to take the enzyme, which works on contact. Food stays in the stomach for up to 90 minutes, therefore, introducing enzymes anytime during the meal will provide the maximum benefit for proper nutrient absorption.*
What healthy foods supply natural digestive enzymes?
While all raw foods contain enzymes, the most powerful enzyme-rich foods are those that are sprouted (seeds and legumes). Sprouting increases the enzyme content in these foods tremendously. Besides sprouts, other enzyme-rich foods include:*
Papaya, Pineapple, Mango, Kiwi, and Grapes
Avocado
Raw Honey (The Enzymes Actually Come from the Bee's Saliva)
Bee Pollen
Extra Virgin Olive Oil and Coconut Oil
Raw Meat and Dairy