Warning: This product is not currently available at any store.
Click the button above and PricePlow will email you when the first store has it in stock!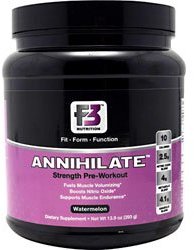 Strength Pre-Workout
What you consume before a workout can either make or break your performance. Because pre-workout nutrition is so important, it is crucial that you get the right nutrients to fuel your workouts for maximum effort.*
Provides Muscle Endurance, Strength, Focus and Energy Support*
Boosts Nitric Oxide and Increase Blood Flow in the Body*
Provides a Source of Energy for Power and Growth*
Quicker Exercise Recovery*
Aids Metabolism*
No Crash Effect*
Annihilate Strength Pre-Workout provides the perfect balance of energy, focus, power and pump for an outstanding pre-workout supplement without the crash-like side effects many pre-workout supplements have. At F3 Nutrition, we've combined three scientifically designed ingredient blends to enable you to Annihilate your workout.*
Frequently Asked Questions
What make's Annihilate so special?
Annihilate was formulated by top sports nutrition scientists utilizing the latest, proven supplement research to deliver the results strength athletes look for most: intense mental focus, increased strength & stamina, and insane pumps. When you think you are at your last rep, Annihilate provides the power source to push out one more!*
I didn't get the same pump as my buddy, I'm 225 lbs and he is 180, is my size the reason?
Yes. Annihilate was designed as a pre-workout for the average athlete. If you are larger athlete over 200 lbs., a bodybuilder, powerlifter, or someone with a high tolerance to stimulants you may need to consume 2 scoops to experience the full effects of Annihilate Strength Pre-Workout.
How do pre-workout supplements work?
Pre-workout supplements are designed to prime your body with specific nutrients that will allow you to get the most benefit from every workout. It is important to note that there are different types of pre-workout supplements for different types of athletic endeavors. "Strength-based" pre-workout supplements like Annihilate are designed for anaerobic activities such as weight training, and contain ingredients to increase nitric oxide (NO) in the blood allowing for a greater pump. While "endurance-based" pre-workout supplements like F3's Air-Speed are designed for aerobic activities such as running/cycling/MMA, and contain ingredients to increase oxygen uptake in the blood (VO2 Max).*
What is Nitric Oxide (NO) and how does it work?
No, it's not the laughing gas in your dentist's office, nor is it the booster fuel used at the drag strip. However, nitric oxide will give your workouts a serious boost - nitric oxide is a vasodilator that is produced from the breakdown of Arginine. What this means is that when nitric oxide is increased in the body the blood vessels expand (dilate) allowing for more oxygen and nutrients to be carried to the muscles…It also means crazy, insane pumps in the working muscle.*
Why does my skin tingle after consuming Annihilate Pre-Workout?
The possible tingling effect produced from Annihilate comes from the amino acid Beta-Alanine stimulating receptors. This reaction is normal and varies from person to person. This effect is temporary and should subside within 15 minutes of consumption and disapear after 2 to 3 weeks of regular use. Proper hydration as well as consuming a protein shake before or after taking Beta-Alanine will also squash the "tingles".Can women benefit from Annihilate also?
Yes, Annihilate is not a gender specific product and women will reap the same benefits as men. However, because of the body mass differences between men and women – it might be wise for women to start with half serving.
Can I take my pre workout twice a day?
Yes, you will benefit from taking each time you train and at least a half hour before. Your body will go through muscle breakdown and muscle energy source consumption and needs the nutrients to prepare your body before each training session. Reminder that this product does contain caffeine and taking late in the day may affect sleep if you are caffeine sensitive.*
How much Caffeine is in Annihilate?
200mg
References
Citrulline/malate promotes aerobic energy production in human exercising muscle. D Bendahan, J P Mattei, B Ghattas, S Confort-Gouny, M E Le Guern, P J Cozzone. Br J Sports Med 2002;36:282–289.
Effect of Betaine supplementation on power performance and Fatigue. Jay R Hoffman*, Nicholas A Ratamess, Jie Kang, Stefanie L Rashti and Avery D Faigenbaum Journal of the International Society of Sports Nutrition 2009, 6:7 doi:10.1186/1550-2783-6-7.
Maresh, C.M., Sarrell, M.J., Kraemer, W.J., et al. The Effects of Betaine Supplementation on Strength and Power Performance. Med. Sci. Sports Exerc. 2007; 39(5): S101, A-957.
Effect of Creatine and ß-Alanine Supplementation on Performance and Endocrine Responses in Strength/Power Athletes Jay Hoffman, Nicholas Ratamess, Jie Kang, Gerald Mangine, Avery Faigenbaum, and Jeffrey Stout International Journal of Sport Nutrition and Exercise Metabolism, 2006, 16, 430-446.
Effect of Caffeine on Oxidative Stress During Maximum Incremental Exercise. Guillermo J. Olcina 1, Diego Muñoz 2, Rafael Timón 1, M. Jesús Caballero 3, Juan I. Maynar 4, Alfredo Córdova 5 and Marcos Maynar 2. Journal of Sports Science and Medicine (2006) 5, 621-628.