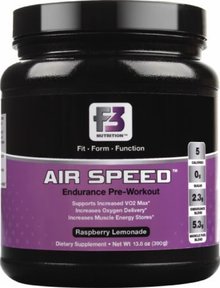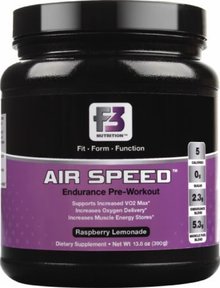 Endurance Pre-Workout
Air Speed Endurance Pre-Workout product is the endurance athlete's answer to peak performance and endurance. Pre-workout supplements can help endurance athletes get that extra boost they need to complete their workouts.*
Supports Increased VO2 Max*
Increases Oxygen Delivery*
Increases Muscle Energy Stores*
Key Benefits of Air Speed
Reduce pre-workout fatigue with a sustained boost in energy.*
Augments short and long-term energy stores for explosive power and prolonged endurance.*
Increased blood flow to working muscles while constantly supplying them with much needed oxygen, phosphocreatine, and glucose.*
Air Speed is designed with a goal to significantly increase energy and reduce fatigue, increase short and long term energy stores for explosive power and prolonged endurance, increase blood flow to working muscles and increase oxygen delivery. These increases in performance and endurance are facilitated by enhancing maximum oxygen uptake capacity (VO2 max), defined as the maximum capacity of an individual's body to transport and use oxygen.*
Air Speed has been developed using ingredients clinically proven to support the oxygen carrying capacity of blood, increase lactic threshold, enhance VO2 Max, improve endurance performance, promote greater gains in lean body mass, support immune system defenses and enhance recovery. The extra oxygen significantly increases the muscles' energy production and can help improve athletic performance, intensity and duration.*
Air Speed Ingredient Breakdown
Quercetin: A flavonoid that is widely found in apple skins, berries, tea, and red wine. Its antioxidant, anti-inflammatory and other properties are likely to improve mental and physical performances during physical exercise.*
N-Acetyl Cystine (NAC): Increases levels of the antioxidant glutathione in the body making it an excellent way to strengthen the immune system, reduce cell damage, speed up recovery, and aids in muscle growth.*
Phosphates: Scientific research shows sodium-phosphate ingestion boosts serum phosphate levels, lifts VO2 max by up to 12%, lowers lactate levels, upgrades total work output, and promotes better endurance.*
Valine: A branched-chain amino acid (BCAA) that promotes normal growth, repairs tissue, regulates blood sugar, and provides the body with energy.*
Beet Root Juice: A performance enhancing supplement for endurance athletes. Beet Root Juice contains high levels of anion, nitrate. Basically this dietary nitrate source is reduced and converted in your body to nitrate then to Nitric Oxide.*
Caffeine (150mg): The ergogenic effects of caffeine on athletic performance has been demonstrated in numerous studies to affect the metabolic and cognitive functions of athletes leading to increased endurance and concentration.
F3 Air Speed Frequently Asked Questions
What makes Air-Speed so special?
F3 Nutrition's Air-Speed was designed by top sports nutrition scientists with the endurance athlete in mind. Using the perfect blend of ingredients Air-Speed significantly increases energy while reducing fatigue & soreness, by facilitating and enhancing the bodies VO2 Max and Lactate Threshold. Air-Speed will give you the extra boost you need to break through the wall instead of hitting it.*
Can runners benefit from a pre-workout supplement?
Yes, numerous studies where runners used pre-workout supplements such as creatine, caffeine, amino acids, have shown improvements in VO2 Max and Aerobic Running Capacity (ARC, i.e., the distance that can be run using only stored energy sources in the muscle).*
What is VO2 Max?
VO2 Max also known as "Maximum Oxygen Uptake Capacity" refers to the maximum amount of oxygen that an individual can utilize during intense or extreme exercise. Basically it means, how much and how fast is oxygen getting to the necessary areas of your body, like your organs and muscles. The more intense and enduring the training is, the more oxygen your organs and muscles require to perform at their peak.
What is Lactate Threshold?
Also known as the "Redline" for endurance athletes; Lactate threshold is the maximum intensity at which the body can recycle lactic acid as quickly as it is produced. When the body can't recycle lactic acid efficiently or fast enough, long and intense muscle soreness can occur.
How do pre-workout supplements work?
Pre-workout supplements are designed to prime your body with specific nutrients that will allow you to get the most benefit from every workout. It is important to note that there are different types of pre-workout supplements for different types of athletic endeavors. "Endurance-based" pre-workout supplements like Air-Speed are designed for aerobic activities such as running/cycling/MMA, and contain ingredients to increase oxygen uptake in the blood (VO2 Max). While "strength-based" pre-workout supplements like F3's Annihilate are designed for anaerobic activities such as weight training, and typically contain ingredients to increase nitric oxide (NO) in the blood allowing for a greater pump.*
Who should take Air-Speed Pre-workout?
Air-Speed pre-workout formula is specifically designed to help any endurance athlete who needs that much needed boost to break through exhaustion barriers, and be physically prepared for the long grueling challenges associated with endurance sports. Great for the sports: Running, Swimming, Rowing, CrossFit, Basketball, Cycling, Soccer, Mixed Martial Arts, Judo, and Brazilian Jiu-Jitsu.*
How much Caffeine is in Air Speed?
150mg.
References
Davis JM, Carlstedt CJ, Chen S, Carmichael, MD, Murphy EA. The dietary flavonoid quercetin increases VO2max and endurance capacity. Epub Int J Sports Nutri.
Davis JM, Murphy EA, Carmichael MD. Effects of the dietary flavonoid quercetin upon performance and health. Curr Sports Med Rep. 2009;8.
MacRae HS, Mefferd KM. Dietary antioxidant supplementation combined with quercetin improves cycling time trial performance. Int J Sport Nutri Exerc Metab. 2006;16:405-419.
Dietary nitrate supplementation reduces the O2 cost of low-intensity exercise and enhances tolerance to high-intensity exercise in humans. Stephen J. Bailey, Paul Winyard, Anni Vanhatalo, Jamie R. Blackwell, Fred J. DiMenna, Daryl P. Wilkerson, Joanna Tarr, Nigel Benjamin, and Andrew M. Jones. School of Sport and Health Sciences and Peninsula College of Medicine and Dentistry, University of Exeter, Exeter, United Kingdom. J Appl Physiol 107: 1144–1155, 2009. First published August 6, 2009; doi:10.1152/japplphysiol. 00722.2009.
Larsen FJ, Ekblom B, Sahlin K, Lundberg JO, Weitzberg E. Effects of dietary nitrate on oxygen cost during exercise. Acta Physiol (Oxf) 191:59–66, 2007.
Derave, W.; Ozdemir, M.S.; Harris, R.C.; Pottier, A.; Reyngoudt, H.; Koppo, K.; Wise, J.A.; Achten, E. Beta-alanine supplementation augments muscle carnosine content and attenuates fatigue during repeated isokinetic contraction bouts in trained sprinters. J. Appl. Physiol. 2007, 103, 1736-1743.
Hill, C.A.; Harris, R.C.; Kim, H.J.; Harris, B.D.; Sale, C.; Boobis, L.H.; Kim, C.K.; Wise, J.A. Influence of beta-alanine supplementation on skeletal muscle carnosine concentrations and high intensity cycling capacity. Amino Acids 2007, 32, 225-233. Nutrients 2010, 293.
Stout, J.R.; Cramer, J.T.; Zoeller, R.F.; Torok, D.; Costa, P.; Hoffman, J.R.; Harris, R.C.; O'Kroy, J. Effects of beta-alanine supplementation on the onset of neuromuscular fatigue and ventilator threshold in women. Amino Acids 2007, 32, 381-386.
Branched Chain Amino Acids Supplementation Increases the Lactate Threshold during an Incremental Exercise Test in Trained Individuals. Matsumoto et al. J. Nutr. Sci. Vitaminol, 55, 52-58 2009.