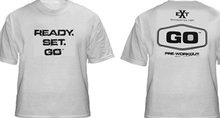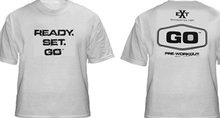 Sport this EXT Sports T-shirt on the streets or in the gym. Crafted using 100% pre-shrunk cotton you can sit, stand, run or throw those weights around in complete comfort.

Warnings: Keep out of reach of children. Not intended for use by females or males under 21 years of age. Consult your physician before using this or any dietary supplement. Do not take if you are pregnant or breast feeding, elderly or under the age of 21, chronically ill, or taking any perscription or over-the-counter medicine, including but not limited to medications for high blood pressure or other cardiovascular conditions. Discontinue use if you experience dizziness, headache, nausea or heart palpitations.

These statements have not been evaluated by the Food and Drug Administration. This product is not intended to diagnose, treat, cure, or prevent any disease.