Warning: This product is not currently available at any store.
Click the button above and PricePlow will email you when the first store has it in stock!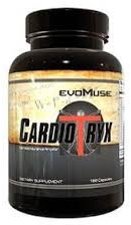 CardioTryx by EvoMuse is An Innovative & Cutting-Edge Cardio and Endurance Amplifier! This supplement is truly the first of its kind. We like to call it a "Cardio Amplifier". If you are into endurance sports, MMA, are prepping for a contest or special life event and you want to maximize your cardiovascular training without spending hours on end, this is your product.

CardioTryx Has Been Designed to do Three Main Things:
1 Increase endurance
2 Reduce perception of work and pain
3 Shift the body's fuel substrate usage from carbohydrate to fat

These three things are accomplished by some very novel mechanisms and this should be a must-have supplement for MMA fighters, Crossfitters, and really anyone that wants to squeeze dramatically more out of each minute they spend doing cardio or metabolic training.

CardioTryx is so potent, that we recommend you only use it once per day about 45 minutes before cardio or metabolic conditioning (a lot of this has to do with the significant boost to AMPk). Those of you doing two-a-day workouts might be able to get away with 1.5x the normal dose split up before each session, but this will require self-experimentation, as everyone will respond differently.

Directions: As a dietary supplement, take 6 capsules an hour before your workout with plenty of water.

Warning: Consult your physician before using this or any dietary supplement. Do not take if you are pregnant or breast feeding, elderly or under the age of 18, chronically ill, or taking any prescription or over-the-counter medicine, including but not limited to antidepressants (such as MAO inhibitors), stimulants, allege medications, and medications for high blood pressure or other cardiovascular conditions. Discontinue use if you experience dizziness, headache, nausea, or heart palpitations. If you have trouble sleeping, do not take within 6 hours of bedtime. Keep out of reach of children. Before beginning any program of weight loss, consult your healthcare practitioner.

Increase your endurance and cardiovascular training with CardioTryx by EvoMuse & other Endurance Supplements at i-Supplements.com.

These statements have not been evaluated by the FDA. These products are not intended to diagnose, treat, cure, or prevent any disease.