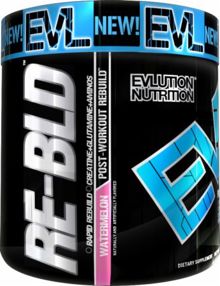 EVLution Nutrition RE-BLD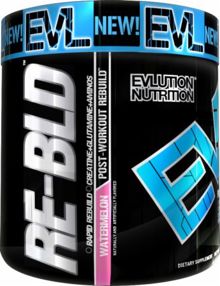 EVLution Nutrition RE-BLD
Swipe left/right to reveal product information
RE-BLD, the Evolution of muscle building starts and ends here.
You Went All Out Training So Don't Settle For Less Than The Best Recovery Supplement To Get You Back To Dominating Tomorrow.*
RE-BLD Combines The Two Leading Creatine Analogues With L-Glutamine, BCAA's and Absorption Enhancers to Take Your Muscle Recovery to the Next Level. RE-BLD Is Your Edge In Getting a Step Ahead of Where You've Been and Others Plateau!*
Supports lean muscle mass, maximizes performance and increases strength.*
Contains highly soluble Creatin HCL to speed absorption.*
Aids in the production of adenosine triphosphate (ATP) wich acts as the intracellular energy source for the body.
Plays a major role in synthesizing muscle protein and cell-volumizing.*
Supports accelerated recovery after training.*
Helps provide energy to muscles and supports a higher capacity for muscle protein synthesis.*
Supports muscle tissue development, recovery and lean body mass.*
Plays key role in supplying energy to muscles.*
Supports Creatine absorption to maximize gains.*