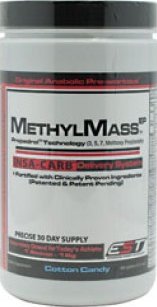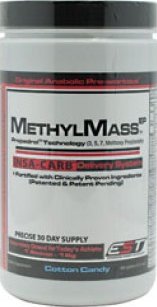 Through Science and Innovation, EST has fused exclusive Patented Ingredients to re-develop the Hard-Hitting, Cutting Edge product METHYL MASS. Introducing METHYL MASS EP! Like is predecessor this Elite Pre-workout utilizes the latest advancements in Cell-Volumizing, Performance, Endurance, and Vaso-Proliferation.
This groundbreaking formula not only includes our exclusive Propadrol Technology to assist in lowering estrogen levels, but now features CREAPHIL, the German Patented Creatine Colloidal (U.S. Pat. No 6-689-299). CREAPHIL is easily digestible, kidney friendly, and has a higher, faster, and longer lasting bioavailability. This is only the tip of the Iceberg as METHYL MASS EP is also fortified with a proprietary hydrating protocol – SUSTAMINE.
METHYL MASS EP hits the athlete's system with the aid of our unique delivery system INSA-CARB, the exclusive designer carbohydrate matrix with an Insulgenic Delivery System. METHYL MASS EP is guaranteed to yield Unsurpassable Results!
Fuel Your Workout:
Can Promote Mental Focus & Energy
May Promote an Increase in Pumps & Muscle Recovery
May Enhanced Strength & Performance
May Induce Cell Volumization
Fortified with PATENTED SUSTAMINE & CREAPHIL
Featuring PROPADROL TECHNOLOGY & INSA-CARB