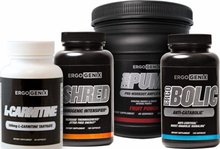 ErgoGenix Fat Annihilator Stack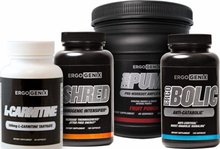 ErgoGenix Fat Annihilator Stack
ErgoGenix ErgoBolic
To make continuous gains in strength and lean mass, you need to make sure that your body's hormones are in a positive anabolic state. ErgoBolic minimizes catabolic (muscle destroying) hormones like cortisol & myostatin, while maximizing the anabolic ones.
ErgoGenix ErgoPump NMT
ErgoPump is ErgoGenix's entry in the pre-workout performance category. Athletes of all types may benefit from ErgoPump's Energy & Muscle Amplification formula.* ErgoPump works to enhance Energy, Focus and Performance.* This scientifically designed, cutting-edge formula works to augment blood flow by promoting nitric oxide production, as well as supporting cognitive function.*
ErgoGenix ErgoShred
ErgoShred is ErgoGenix's flagship weight loss product. Due to its innovative and cutting edge design, ErgoShred is a revolutionary product in the fat burning category.* ErgoShred helps promote fat loss, a healthy appetite level, increased endurance, and long lasting energy—all without hindering your athletic performance.*
ErgoGenix L-Carnitine
L-Carnitine L-Tartrate (LCLT) is the biologically active form of Carnitine, an ammonium compound biosynthesized from methionine and lysine. Of the many ingredients included in most supplements these days, LCLT is one of the rare ingredients with a solid foundation of research behind it for use in humans, especially with regards to resistance training.