Quick Links to Our Prices
How does this work and how do stores get listed? See our disclosure below to learn more. Price History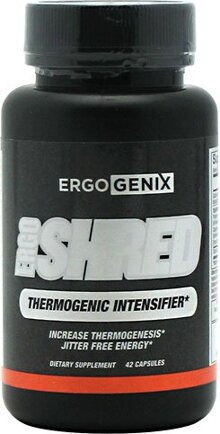 AN INNOVATIVE, CUTTING EDGE
DESIGN UNLIKE ANY OTHER*
PROMOTE HEALTHY BODY COMPOSITION*
STIMULATE LIOPLYSIS & THERMOGENESIS*
SUPPORT HEALTHY, NORMAL APPETITE LEVEL*
BOOST ENERGY & ENDURANCE*
AMPLIFY RESULTS
STACK ERGOSHRED & ERGOBOLIC
Increase your thermogenic potential and maximize your fat loss efforts by stacking the clinically dosed ingredients of ErgoShred with the body-recompositioning power of ErgoBolic.
OVERVIEW
ErgoShred is ErgoGenix's flagship weight loss product. Due to its innovative and cutting edge design, ErgoShred is a revolutionary product in the fat burning category.* ErgoShred helps promote fat loss, a healthy appetite level, increased endurance, and long lasting energy—all without hindering your athletic performance.*
ENGINEERED DESIGN
Through the combination of Quercetin, Caffeine, N-Methyltyramine (NMT), and Zingerone in effective amounts, ErgoShred exploits many different metabolic pathways in synergy.* Caffeine may help with lipolysis and increased performance by delaying fatigue.* Quercetin may boost metabolism, help maintain healthy cortisol levels already in normal range, and support stamina.* It may also promote fat loss by increasing the rate of lipolysis supported by caffeine.* Zingerone, like Quercetin, may also help promote lipolysis induced by caffeine.*
B-Phenylethylamine HCl also provides energy support without causing jitters, and has been suggested to promote mood and focus.*
ErgoShred also contains the rare esterified carnitine Propionyl-L-Carnitine (PLCAR). The inclusion of PLCAR in ErgoShred may help support antioxidant protection and healthy body composition via stimulation of the carnitine palmitoyltransferase pathway.*
ErgoShred also contains the patented Capsimax and Bioperine. Capsimax contains an extract of capsicum that may reduce the chance of mild heartburn that some people may experience with other capsicum products, while still providing capsaicinoids.* Bioperine, on the other hand, supports nutrient absorption, which may promote the absorption of the ingredients within ErgoShred.* Not only may ErgoShred help support your goal of healthier body composition, but through the incorporation of Capsimax into its formula, it may support the burning of calories both during AND after exercise, as well as promoting a normal, healthy appetite level and increased thermogenesis by promoting energy expenditure.*
ELEMENTS
Promotes healthy body composition by
supporting lipolysis and thermogenesis.*
Helps support a healthy, normal appetite level.*
Promotes energy and endurance
BENEFITS
May support beta adrenoreceptor lipolysis and stimulation of the carnitine palmitoyltransferase pathway*
Supports improved body composition by promoting a healthy metabolism*
Enhances anaerobic work capacity by boosting energy*
May support antioxidant protection and free radical scavenging*
May help support healthy cortisol levels already in the normal range*
DOSAGE CHART
OCCASION
DOSE
2  - 4
AM WAKE-UP
2  - 4
AFTERNOON
*DO NOT EXCEED SIX CAPSULES PER DAY