Quick Links to Best Prices
120 Capsules
(Buy 1 Get 1 FREE) Price History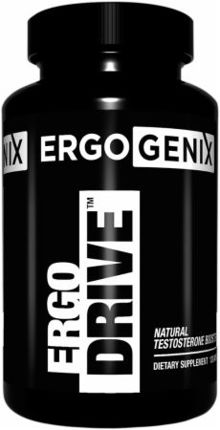 ERGODRIVE
NATURAL TESTOSTERONE BOOSTER*
Performance
+

Metabolic Rate

+

Muscle Building

+

Anti-Catabolism

You're not going to let anything keep you from your workout―not your schedule, not fatigue, and certainly not aging. You're determined to give every single workout all you've got, and you need proven hormonal support to train at your best, day in and day out. ErgoDrive is designed specifically for dedicated trainees like you who want to maintain peak performance, increase metabolic function and sexual health, and reduce muscle breakdown.
ERGODRIVE SUPPORTS:
ERGODRIVE SUPPORTS:
MUSCLE GROWTH &
REDUCED MUSCLE BREAKDOWN
You don't have to lose your hard-earned muscle when you age. Fenugreek and Boron, two widely used ingredients, help prevent tissue breakdown while boosting mass and encouraging muscle repair!
Xenith F Fenugreek extract

: This highly advanced formula is standardized for protodioscin and furostanolic saponins, both of which are valued for their sexual health benefits and anabolic support.* ErgoDrive utilizes a highly potent extract that sets it apart from the other leading brands on the market.*

Boron

: This helper mineral increases the effectiveness of other minerals in the body, such as magnesium, which has been shown to support anabolic hormone levels.*
PERFORMANCE
Every serving of ErgoDrive is packed with ingredients to help you naturally maintain testosterone levels, which play an important role in your sexual health and physical performance. Testosterone decreases with age, but ErgoDrive is designed to help you safely support your body's natural production of this crucial hormone.*
Longjack

: This herb has been suggested to support a healthy testosterone to estrogen balance.*

Vitamin D

: Supports optimal male reproductive function.*

Zinc

: Supports overall testosterone levels.*
METABOLIC RATE
Keep your metabolism firing even when you're at rest with ingredients that boost your body's fat-fighting ability, 24/7.
Primavie Shilajit

: This clinically studied ingredient contains biologically active components that play a crucial role in energy metabolism and serum testosterone support.*

DIM

: Found in cruciferous vegetables, DIM supports a healthy testosterone to estrogen ratio and promotes a healthy level of estrogenic activity.*
ErgoDrive vs The Competition (Daily Doses)
ErgoDrive Formula
Top Competitor 1
Top Competitor 2
Top Competitor 3
Fenugreek Seed Extract - 600mg
Included*


not standardized for 20% Protodioscin

Included*


not standardized for 20% Protodioscin

Not Included
Purified Shilajit (PrimaVie) – 200 mg
Not Included
Included
Not Included
Longjack Root – 200 mg
Included
Not Included
Not Included
3,3' Diindolylmethane (DIM) – 200 mg
Included
1,000mg
Included*


Non-Standardized

Included
100mg
Boron – 6 mg
Not Included
Included
10mg
Not Included
Vitamin D (as cholecalciferol) – 2,000 iu
Not Included
Not Included
Included
4,000 iu
Zinc – 70 mg
Not Included
Included
30 mg
Included
30 mg