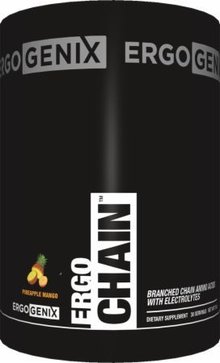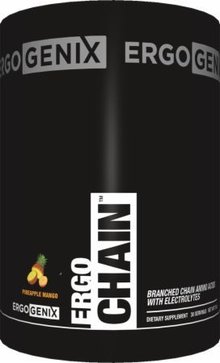 ERGOCHAIN
BCAA BLEND TO AID RECOVERY
When it comes to training and nutrition, you demand the best. You're serious about fueling properly for every session, performing at your peak, and getting the most from every workout. You live by the credo "I Lift, Ergo I Am." ErgoChain is designed so that you can train harder, longer, every time you hit the gym. Amino acids are the building blocks of muscle and staying hydrated is crucial to making sure you stay in the game. ErgoChain provides the best of both worlds and comes in four delicious flavors that will have you looking forward to your next workout.
ERGOCHAIN SUPPORTS:
ERGODRIVE SUPPORTS:
PERFORMANCE
For athletes looking to increase strength and muscle size, BCAAs can be incredibly beneficial.* BCAAs can help you achieve an increased rate of muscle growth in response to resistance training.* BCAAs are highly anti-catabolic and since muscle tissue absorbs BCAAs directly, your body has the fuel it needs to drastically decrease muscle tissue breakdown.* ErgoChain uses the proven 2:1:1 ratio of l-leucine, l-valine and l-isoleucine, that will provide you with the anabolic response you need to maximize the results of your workout and maintain a positive nitrogen balance in your body.*
HYDRATION
If you're working hard in the gym, you need to stay hydrated. ErgoChain contains a balanced blend of electrolytes that are crucial to your performance. When you sweat, your body is depleted of these vital minerals and salts, which can not only diminish your ability to train hard, but puts you at risk for debilitating cramps and a painful end to your gym session. ErgoChain is sugar-free and contains zero carbohydrates, so you can enjoy it throughout the day as well.
REFRESHING FLAVORS
When ErgoChain splashes over your tongue, the taste is unmistakable. You'll look forward to every workout.