Warning: This product is not currently available at any store.
Click the button above and PricePlow will email you when the first store has it in stock!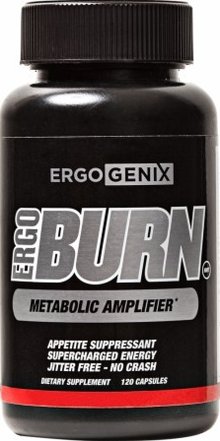 AN INNOVATIVE, CUTTING
EDGE DESIGN UNLIKE ANY OTHER*
AMPLIFY YOUR METABOLISM*
STIMULATE LIPOLYSIS & THERMOGENESIS*
HELPS CONTROL YOUR APPETITE*
BOOST ENERGY & ENDURANCE*
AMPLIFY RESULTS
STACK ERGOBURN & ERGOBOLIC
Increase your thermogenic potential and maximize your fat loss efforts by stacking the clinically dosed ingredients of ErgoBurn with the body-recompositioning power of ErgoBolic.*
OVERVIEW
ErgoBurn NMT has been engineered using the most cutting edge ingredients science has to offer. ErgoBurn NMT contains the vanilloid receptor agonists, Evodiamine, Zingerone and Raspberry Ketone, which not only promote the release of the hormone norepinephrine, but actually support the activity of the hormone, which encourages energy expenditure and in turn promotes fat loss.*
ENGINEERED DESIGN
ErgoBurn NMT also contains Green Coffee Bean Extract - much like the famous green tea; green coffee is rich in polyphenols and is known as one of the richest sources of anti-oxidants nature has to offer.
Also included is Kaempferol, a flavonoid that not only promotes muscle cell oxygen consumption, but it also supports healthy thyroid function by encouraging the efficacy of the hormone known as T3.*
As if this was not enough to elevate ErgoBurn light years ahead of the competition, our inclusion of Fursultiamine surely is. Thiamine is a vital vitamin for the metabolism of both carbohydrates and fats.* Fursultiamine enhances the production of ATP which improves exercise performance and aids in the reduction of muscle fatigue.*
The energy is Jitter-Free!*
Finally, n-methyltyramine and caffeine - a combo that helps improve energy, focus and oxygen intake, as well as delaying the onset of fatigue.*
If you want to amplify your metabolic rate, curb your cravings and increase focus, ErgoBurn NMT is for you.*
EVERYTHING ELSE IS JUST A PILL.
ELEMENTS
Promotes healthy body composition by supporting lipolysis and thermogenesis*
Helps support a healthy, normal appetite level*
Promotes endurance and energy*
May support beta adrenoreceptor lipolysis and
stimulation of the carnitine palmitoyltransferase
pathway
Supports improved body composition by
promoting a healthy metabolism*
Enhances anaerobic work capacity by
boosting energy*
May support antioxidant protection and free
radical scavenging*
May help support healthy cortisol levels
already in the normal range*
*DO NOT EXCEED EIGHT (8) CAPSULES PER DAY