Warning: This product is not currently available at any store.
Click the button above and PricePlow will email you when the first store has it in stock!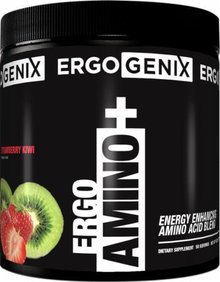 ERGOAMINO+
ENERGY AND RECOVERY COMPLEX
Muscle Building*

+

Anti-Catabolism*

+

Energy and Focus*

+

Hydration*
Lifting is a vital part of your life. You can't afford to be slowed down by fatigue or soreness. You need to be unstoppable. Your intense training requires around-the-clock recovery, and that's precisely what ErgoAmino+ delivers.* Sip ErgoAmino+ any time for a spark of energy, a strong dose of crucial muscle-menders, and a powerful blend of additional performance ingredients.*
MUSCLE BUILDING AND ANTI-CATABOLISM*
Each two-scoop serving of ErgoAmino+ delivers five full grams of branched-chain amino acids (BCAAs) in a precise 2:1:1 ratio of leucine, isoleucine, and valine to help you preserve hard-earned muscle and stack on new lean tissue.* Studies suggest this dose and ratio is highly effective in spurring muscle protein synthesis and preventing catabolism, or the breakdown of muscle.*
Additional aminos intensify this two-pronged approach:
Lysine: Supports protein synthesis, supports the immune system*
Threonine: Supports protein accumulation and muscle growth*
Phenylalanine: Utilized in protein production
Alanine: Spares ATP in the muscle
Serine: Involved in the synthesis of creatine
L-Citrulline: Supports blood concentration of L-Arginine for growth and recovery*
Customizable Energy and Focus*
Each scoop of ErgoAmino+ contains 75 mg of caffeine, which is enough to help you focus but less than a cup of coffee. Take one scoop when you need a little lift, or two for a more serious wakeup call. You'll feel even more mentally alert with green tea and guarana, two natural energizers.
Select amino acids support neurotransmitters and the production of other important neural chemicals to keep you sharp*:
Beta-Alanine: Promotes physical performance and use of the glycolytic energy system*
Serine: Supports the use of glucose and fatty acids for energy*
Phenylalanine: Supports the hormones that affect mood and neurotransmitters*
Tyrosine: Key component in the making of brain chemicals
Choline: Supports cognition*
Taurine: Supports neurological function*
HYDRATION*
Electrolyte replenishment isn't bro science invented to sell sugar water. Hydration for the hardcore means putting back what you sweat out. Electrolytes are minerals that form ions in your bodily fluids, optimizing various functions. Their electrical energy is necessary for several jobs, including muscle contractions and transmission of nerve impulses.
all-day taste
Master your morning, conquer your workout, or fight the afternoon slump. Rebuild during or after your workout, and rehydrate whenever necessary. ErgoAmino+ has enough fresh flavors to make it your favorite beverage any time of day.