Warning: This product is not currently available at any store.
Click the button above and PricePlow will email you when the first store has it in stock!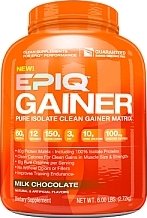 Pure Isolate Clean Gainer Matrix
If you're an athlete putting in hours of hardcore training day in and day out, you know how hard it is to keep your calorie intake high enough to support serious gains in muscle size and strength. But size is king! After all, you want to be at the top of your game, and gaining pure muscle weight will help give you an undeniable advantage over the competition in any power sport, and also help you look harder and more chiseled.*
Adding a weight gainer to your supplement arsenal is a great solution, as mass gainer shakes are easy to prepare and consume, and are perfect for adding extra calories between meals and after workouts. The problem with most regular weight gainer formulas on the market is that they focus on calories above all else and skimp on ingredients - often sacrificing quality protein and carb sources to put as many calories in the bottle as possible in the form of fat, cheap sugar, and concentrate-grade or lower-quality protein sources.*
Why is 100% Isolate Protein so Important?
EPIQ Mass Gainer uses only high-quality isolate proteins, including sustained-release milk protein isolate and quickly absorbing whey protein isolate. Why these isolates? It's simple. Our special isolate proteins are highly bioavailable proteins that are more easily digested and utilized by the body compared to lower quality proteins. Concentrate proteins contain extra fat and carbs, while isolates are low in fat - containing less fat and lactose - so you won't have to worry about a sugar or fat-laden gainer formula.*
Quality Carbs to Fuel Workouts & Recovery
EPIQ Mass Gainer contains a unique Carbohydrate Matrix that was designed to overcome post-exercise catabolism by providing increased glycogen to fuel recovery. This powerful blend has a mix of simple and complex carbs that, when taken post-workout, spike insulin, which quickly shuttles creatine into the muscle. They also promote muscle glycogen replenishment, helping to put the body in an anabolic state for recovery.*
Clean Formula for Powerful Results
Coupled with 100% isolate proteins and the Carbohydrate Matrix are powerful ingredients to drive muscle strength and growth. Each serving contains a massive 10g of pure, clean creatine - the most researched of all musclebuilding ingredients - plus fast-absorbing free form amino acids like leucine and glutamine.* And like all EPIQ Guaranteed Supplements, Mass Gainer is:
Free of banned substances (WADA)
Free of artificial colors or dyes
Free of harmful impurities
Free of undeclared ingredients
Developed with scientifically researched key ingredients
Manufactured according to current Good Manufacturing Practices (cGMP) standards, as is required for all dietary supplements
Made in the U.S.A. from international and domestic ingredients